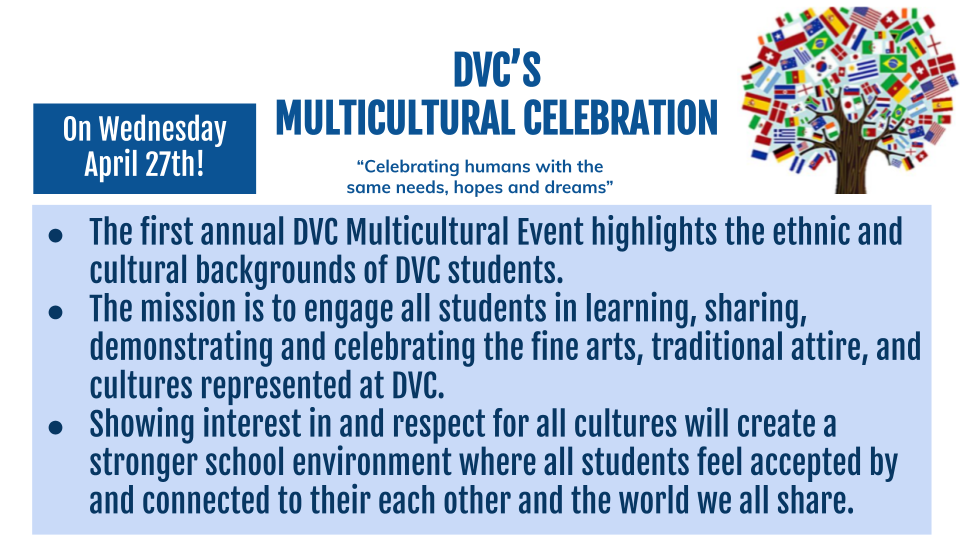 DVC's Diversity, Equity, and Inclusion Council (also known as the DEI Council) has been organizing a special event that they hope to make an annual tradition: The DVC Multicultural Event! This celebration is currently scheduled for Wednesday, April 27th from 1:35pm – 3:35pm. Students in the DEI Council are hoping to allow students to taste food from several different cultures, and they hope to have the food catered from local restaurants. In order to provide this kind of special experience, we rely on donations to our Annual Giving Campaign as the money provided by state and federal governments does not allow for us to pay for these types of events. If you have yet to contribute to Da Vinci's Annual Giving Campaign, please consider donating to Da Vinci Communications and writing in the donor scroll that this donation is in support of the Multicultural Event. Here is the link for donations: https://davincischools.networkforgood.com/
Another highlight of this event will be the student performances. There will be another round of tryouts for students after spring break, so please consider signing up to tryout here: DVC Multicultural Event Application for Student Performances The DEI Council is looking for authentic native dances, songs, poems, art work, or any other kind of cultural demonstration. 
As a kick-off for DVC's Multicultural Week, we have organized a special workshop hosted by DAANSEKOU Cultural Collective on Monday, April 25th. Sign up here to join DAANSEKOU in a Traditional West African Workshop involving music and dance! This workshop will take place on Monday, April 25th during seminar time. If you sign up to join DAANSEKOU, full participation is expected. Advance sign-up is required for participation. Participation is limited to the first 100 students who sign up.
Thank you for your help in making DVC's Multicultural Week a tradition to continue!
Sincerely,
Erin D'Souza
Principal