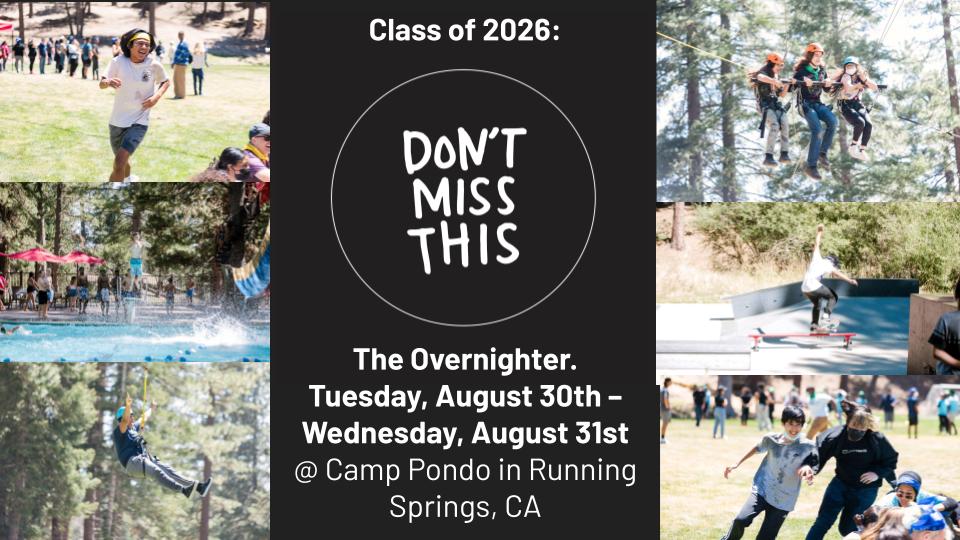 Dear Students & Families of the Class of 2026,
We are thrilled to be getting ready for The Overnighter – a not-to-be-missed signature practice of Da Vinci Communications! This two-day, one-night trip is free of charge for our students, and we love that students get to start the school year with great memories and new friends. It is our hope that all 9th grade students will attend this special event. 9th grade students will depart on Tuesday, August 30th and return on Wednesday, August 31st. Please review the linked information below carefully in preparation for the trip.
DVC Overnighter August 2022 (9th Grade)

: This packet contains information about the following:

Mandatory covid-testing prior to trip departure

How to contact us in the event of emergency

What to pack for the trip

Expected departure and arrival times

Student cell phone use during the trip

Students who need to take medications during the trip

Dietary Restrictions for Overnighter

: Please complete this link if you have a dietary restriction that the kitchen staff must be made aware of.
Students will review this information during Grade-Level Homeroom on Monday, 8/22 and permission slips will be handed out at this time. Permission slips are due on Wednesday, 8/24 to Grade-Level Homeroom teachers.
It is important to note that though we are using Camp Pondo's facilities, the entire program is run exclusively by the staff and student leaders of Da Vinci Communications. We pay Camp Pondo for use of the facilities, meal preparation, and support with our activities such as zip lining and swimming. If you have any questions about the program, please contact Erin D'Souza, Principal.
Sincerely,
Erin D'Souza, Principal