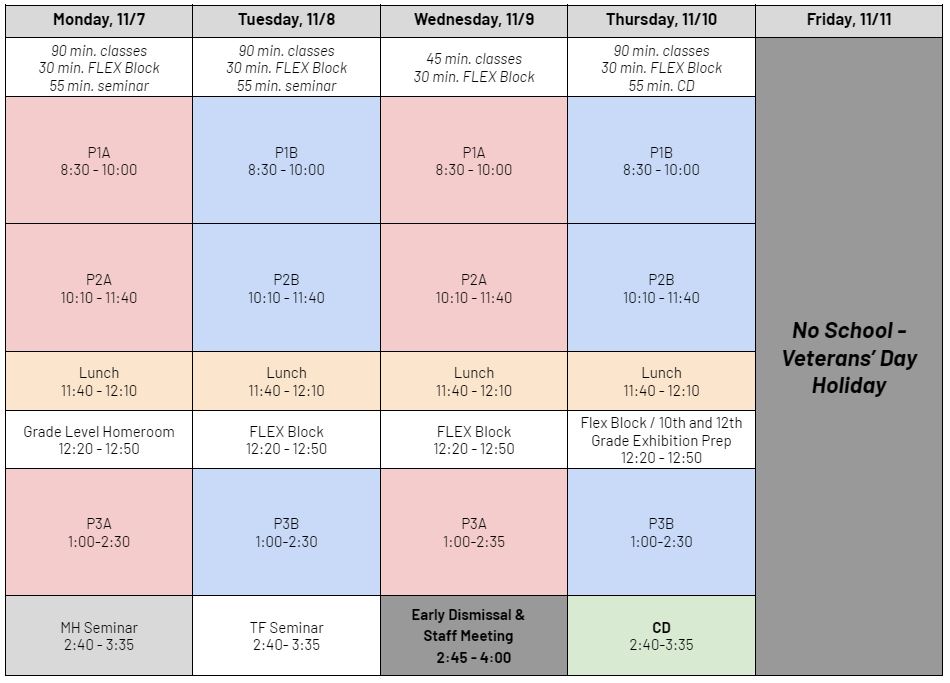 Dear DVC Students and Families,
A huge thanks to all of you who gave blood on Halloween and participated in our spirit week! We are now turning our attention to preparation for Exhibition Night, an important signature practice that will take place on Thursday, 11/17 from 5:30pm – 7:00pm. All students are expected to attend, and all 10th & 12th grade students will be showcasing their projects. Please invite family, friends, and prospective DVC students – we look forward to a great turnout and welcome the whole community to this great showcase of student work.
Week 13 Schedule: This week is a 4-day week; no school on Friday in observance of Veterans' Day. There are a few events happening this week – check them out below:
Guest Speaker on Tuesday, 11/8:

The Club of Afro Unity & Afrocentric Education (AUAE) invites all students to attend this talk by Taylor Moore, School Psychologist: "Black & Other Minority Students in a School Environment: Survival Brains vs. Learning Brains." The event will take place during lunch on Tuesday in Ms. Regina's room (3201).

Ice Skating Fundraiser on Wednesday, 11/9:

Support our yearbook team and go ice skating after school (2:35 – 5:00pm) at the Toyota Sports Center (555 Nash St. El Segundo). Tickets can be purchased at

myschoolbucks.com

.

Aviation Day on Wednesday, 11/9:

If students signed up, they must return their permission slip to attend the field trip; students need to arrive at school by 8:30am for the bus.

International Travel Info Meeting on Thursday, 11/10  (11th Grade Only):

There is an information meeting for a Global Glimpse trip to Ecuador, the Dominican Republic, or Costa Rica on Thursday, 11/10 during FLEX Block. Global Glimpse is a nonprofit that provides powerful international travel and leadership opportunities to high school students from diverse backgrounds. This is a 14-day international experience. Trip leaders are Mr. Tim Regalado (

tregalado@davincischools.org

) and Ms. Artia Thomas (

athomas@davincischools.org

). 
Yearbook Sales: It's time to buy a yearbook! Yearbooks can be purchased at this link: DVC Yearbook Purchase Link 
Here's what's coming up:
Friday, 11/11: No School – Veterans Day Holiday

Thursday, 11/17: Exhibition Night – grades 10 & 12 |  5:30pm – 7:00pm 

Monday, 11/21 – Friday, 11/25: No School – Thanksgiving Break

Wednesday, 11/30: School Site Council Meeting

Thursday, 12/8 – Thursday, 12/15: Presentations of Learning – POLs (1:50pm dismissal)

Friday, 12/16 – Friday, 1/6: Winter Break (No School)

Monday, 1/9: School Resumes & Semester 2 Begins