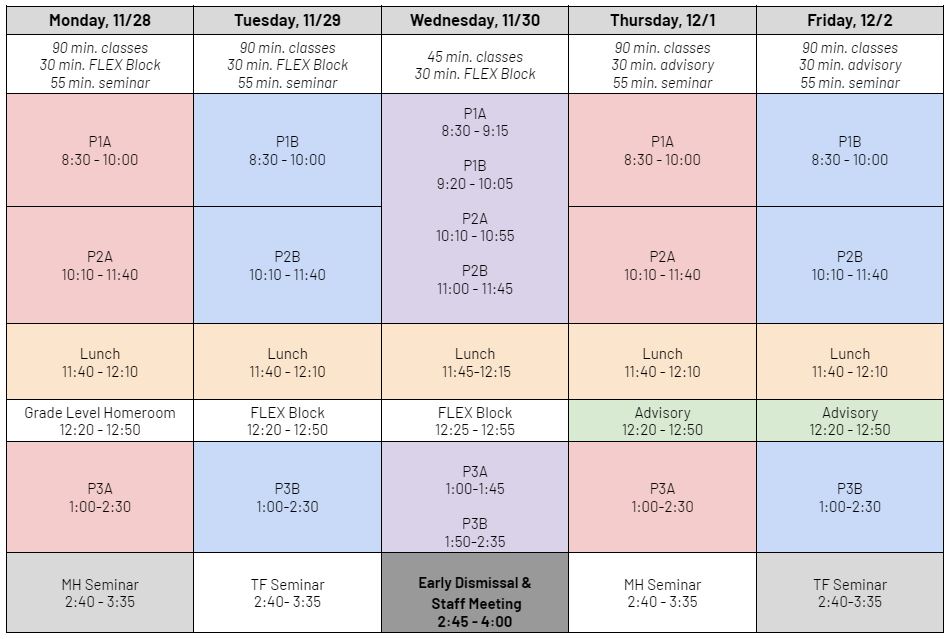 We return to school on Monday, 11/28! As a reminder, there are only three weeks left during Semester 1. Grades earned at the end of this semester appear on students' transcripts, and a new semester begins in January 2023. 
Student Grades: This is an important time to sit down with your student and check their grades in Powerschool. Click here for the Powerschool website; please email Jackie Martinez at jmartinez@davincischools.org if you need your username and password. The last day for students to submit schoolwork for Semester 1 is Wednesday, 12/7.
School Site Council Meeting: All are welcome to attend our School Site Council Meeting on Wednesday, 11/30 at 4:30pm via this zoom link. Please see below for the agenda:
Public Comment

Assessing Progress Toward Goals

School Safety Plan Review & Revision

Finalize School Safety Plan
Presentations of Learning (POLs): POLs are just around the corner! Please be sure that your student has professional dress for their presentation. As a reminder, we will be opening a "professional dress thrift shop" for students to visit if they are in need of professional attire. POLs begin on Thursday, 12/8 and continue through Thursday, 12/15; students will be dismissed from school at 1:50pm on these days.
Here's what's coming up:
Wednesday, 11/30: School Site Council Meeting at 4:30pm at

this zoom link

Wednesday, 12/7: Last Day to Submit Work for Semester 1

Thursday, 12/8 – Thursday, 12/15: Presentations of Learning – POLs (1:50pm dismissal)

Friday, 12/16 – Friday, 1/6: Winter Break (No School)

Monday, 1/9: School Resumes & Semester 2 Begins