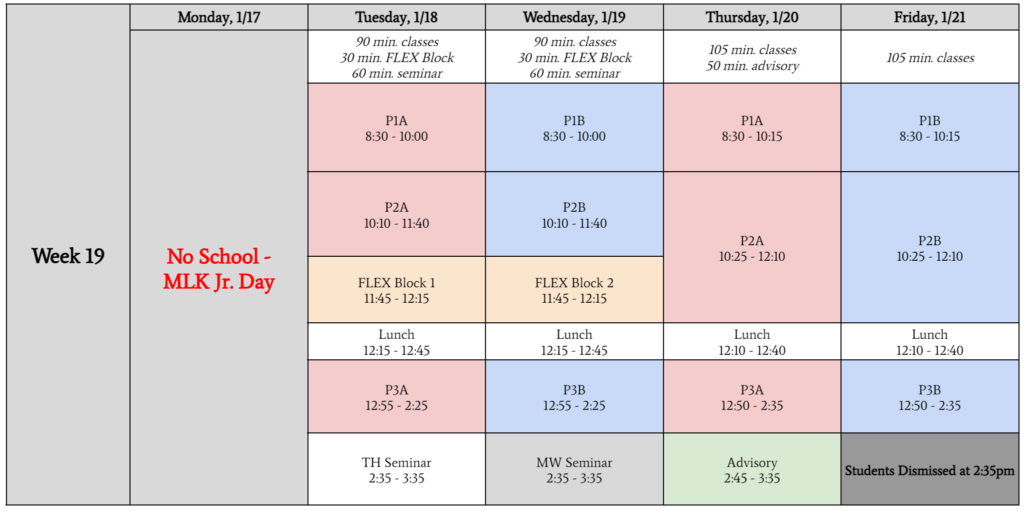 Happy Martin Luther King, Jr. Day! Today we honor his legacy, and last week students participated in Bystander Intervention Training led by Hollaback!, which helped students and staff feel empowered to do something to help whenever they witness someone being harassed for any reason, whether at school or outside of school. We keep moving forward together, learning and working to make DVC and our community a space that is free from harassment or hate of any kind – one that MLK Jr. would be proud of!
Seminars begin this week! Students can expect to get a printed copy of their new schedule during 3rd period on Tuesday, 1/18 just prior to the start of the first seminar class. Any requests for changes will be accommodated as best as possible, and students will be provided with a link in which to make their requests.
We are thankful to our students for doing a great job keeping their masks covering their mouths and noses throughout the school day. Here are the testing options available at DVC:
Rapid Antigen Testing (Ongoing):

On-site rapid testing for students open from 8:15am-3:45pm daily. Students are not allowed to leave class to test and must use time before school, during lunch, and after school. Students should

pre-register here

if this is their first time testing at school.

PCR Testing (New this week): Da Vinci Schools is proud to offer onsite PCR testing for students and staff starting this Wednesday, 1/19! This does not replace our existing rapid testing program. Here is the flyer: DV PCR COVID TESTING Please see details below: 

First event: Wednesday, 1/19/22

Time: 230-430pm, first come first serve.

Rest of semester: Weekly on Tuesdays 230-430p

Location: 201 N Douglas Street, COVID tent in backyard by lunch area

Pre-​registration required:

https://ihd-patient.preciseq.com/davinci-schools

 

What to bring: ID and unique QR code provided after registration (

This code is to be used for the lifetime of the Testing Program. Please present this code to the technician prior to every test)

*Please note, insurance information is required, so we encourage students to register at home with access to their insurance card.
For students who are unable to come to school, class information and assignments will continue to be available via Google Classroom. All students who are feeling healthy and who are at home are encouraged to keep up digitally with assignments and videoconference during their teachers' scheduled virtual office hours. Please see this link for virtual office hours information: DVC Zooms for Students in Quarantine Please contact Pattie Foxman in our office at pfoxman@davincischools.org to notify us if your child is going to be absent from school.
Wishing you and your family a healthy week,
Erin D'Souza
Principal