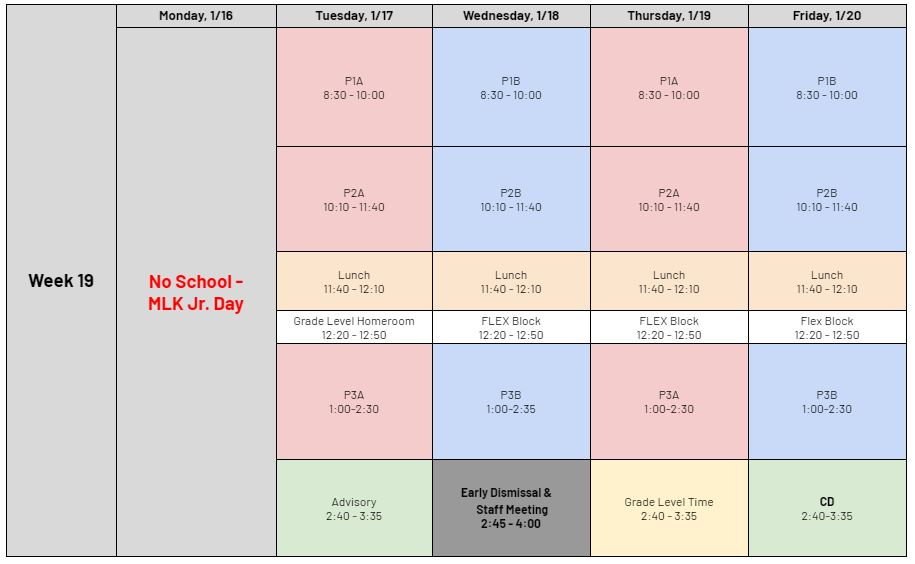 We had a great start to Semester 2 at DVC! One of the highlights of our week was hosting visits by the 8th graders at Dana Middle School. It's enrollment season and we're gearing up to welcome another class of DVC students. If you know a student/family interested in DVC, please have them visit this Enrollment Overview webpage: Enrollment Overview | Da Vinci Schools (Please note that current students do not need to re-apply at this time; re-enrollment for current students will be sent out in the spring.)
MLK, Jr. Holiday (No School on Monday, 1/16): Monday is a school holiday held in honor of civil rights champion Dr. Martin Luther King, Jr., who championed the cause of justice, racial equality, and love between people regardless of the color of their skin. Dr. King's hope and faith in a society committed to driving out the darkness of injustice and racism in our country with the light of justice and love is one we continue to reflect on, teach, and strive to embody with our students.
Spirit Week: DVC leadership has organized themed days for next week! Students – show your school spirit and dress up with us!
Tuesday, 1/17: Dress as Adam Sandler Day

Wednesday, 1/18: Pajama Day

Thursday, 1/19: Throwback Thursday (Dress as your favorite decade)

Friday, 1/20: Class Colors Day

9th Grade: Green

10th Grade: Pink

11th Grade: Blue

12th Grade: Purple
Here's what's coming up:
Monday, 1/16: No School – Martin Luther King Jr. Holiday

Friday, 1/20: Dana Middle School 8th Graders Visit DVC

Wednesday, 2/1: School SIte Council Meeting (new date)

Friday, 2/3: No School – Professional Development Day

Monday, 2/6: National School Counseling Week Begins

Monday, 2/20: No School – Presidents' Day