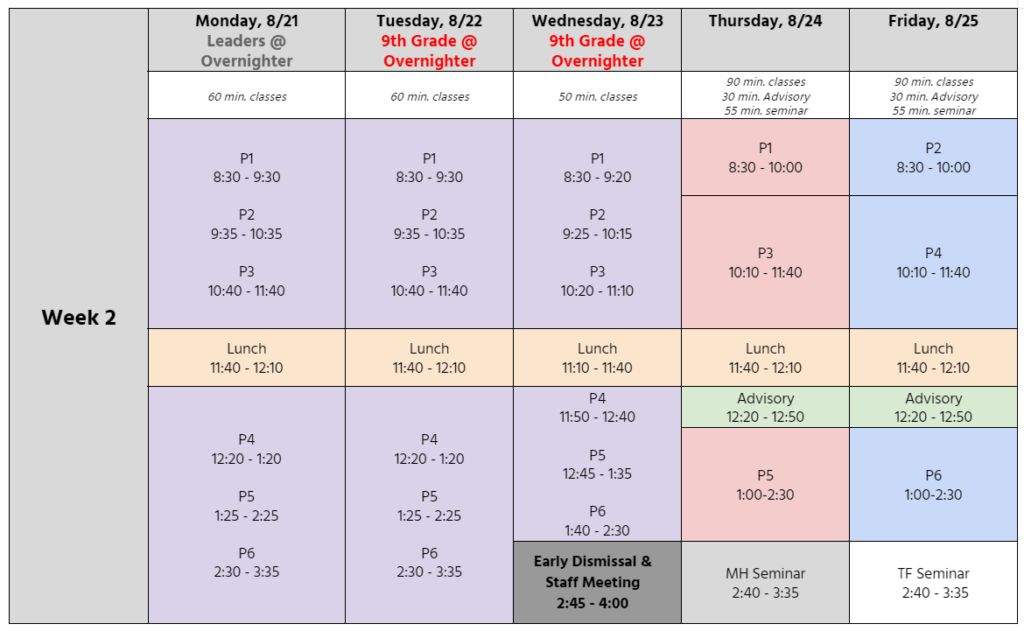 We had a great first week at DVC! Our professional photographer, Stacee Lianna, took some great pictures of our first day! Feel free to check them out here: First Day Photos 
Schedule Change Requests: Students were enrolled in seminar classes this week. Seminars are elective periods that meet on Monday and Thursdays (Period MH) or Tuesdays and Fridays (Period TF). We do our best to match students with their preferences. Many seminars are full, but there are some that still have space. Students who wish to make a change to their seminar classes should complete this form: DVC Schedule Change Request Form We will do our best to accommodate as many requests as possible. 
Metro Passes: Da Vinci Schools is participating in LA Metro's GoPass Program again this year! This means any DVC student can receive a free Metrocard that, once activated, will allow them to ride on the Metro at no cost until June 30, 2024. Students can pick up a card and instructions to activate their card from Jackie Martinez (jmartinez@davincischools.org) at the DVC Front Desk. Here is more information on the GoPass Program if you are interested.
Overnighter: The whole school is excited for the Class of 2027 as they prepare to leave for The Overnighter on Tuesday, August 22nd. The Overnighter Leaders leave on Monday, August 21st to get ready to welcome the 9th graders. We are monitoring the weather closely and we are in contact with the camp should we need to make any changes to the current plans. Class of 2027 & Families: Please review the linked information carefully in preparation for the trip: DVC Overnighter August 2023 (9th Grade). This info sheet contains information about the following:
How to contact us in the event of emergency

What to pack for the trip

Expected departure and arrival times

Student cell phone use during the trip
Tutoring: We are pleased to offer free after school tutoring Mondays through Thursdays! Our tutor, Alex, specializes in math and science, but he is willing to help all students in all subjects. Tutoring will take place in Room 3206 (Rob's room) according to the following schedule:
Monday, 3:35 – 4:30

Tuesday, 3:35 – 4:30 (2 hours of tutoring available on early dismissal Wednesdays)

Wednesday, 2:30 – 4:30

Thursday, 3:35 – 4:30

No tutoring on Fridays
Here's what's coming up:
Monday, 9/4: No School – Labor Day Holiday 

Thursday, 9/7: Back to School Night @ 5:30pm

Friday, 9/8: Club Fair

Thursday, 9/14: First Schoolwide CD (School Assembly)

Friday, 9/15: No School – Professional Development Day

Saturday, 9/16: Latino College Expo
Please bookmark this school calendar for the most up to date information. 
Wishing you a safe and restful weekend,
Erin D'Souza, Principal