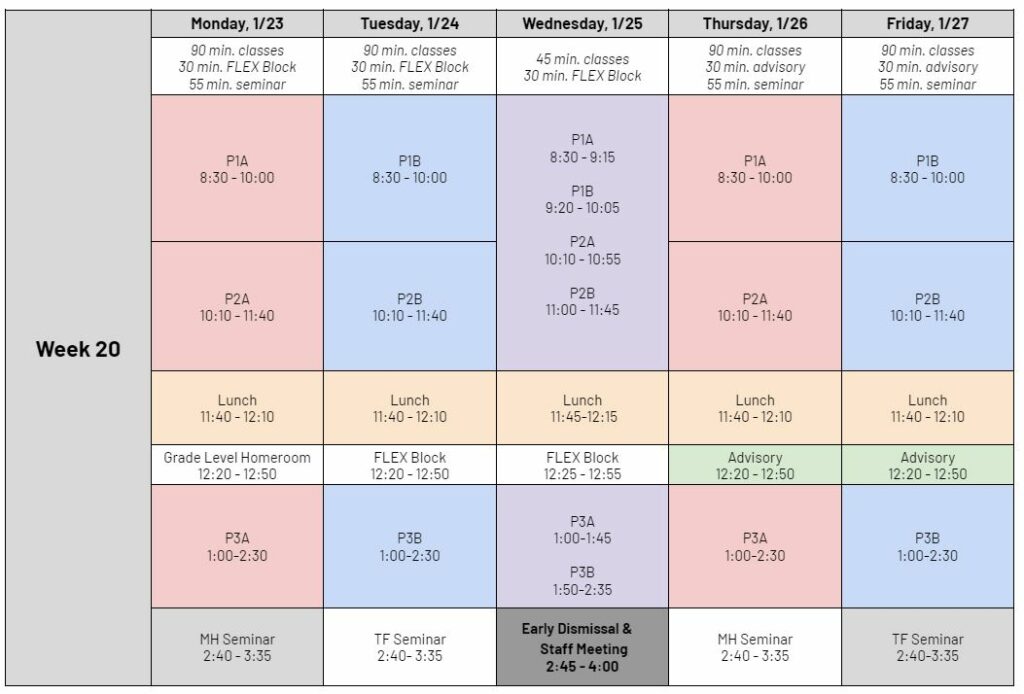 Happy Sunday, DVC Students & Families! 
End-of-Semester Awards: We ended last week with a celebration of 215 DVC scholars who earned Honor Roll (GPA of 3.5 – 3.9) and High Honor Roll (GPA of 4.0 and above) for Semester 1 of this school year. This is a terrific accomplishment and we are so proud of our students! Certificates for honor roll will be distributed in classes this week. We also awarded special recognition to students who demonstrated the values of our community with our end-of-semester All-Star Awards. Congratulations to all who received awards on Friday! 
Seminars: We resume our seminar program this week. Students, please check PowerSchool to ensure that you attend the course you are enrolled in. If you would like to request a change to your seminar, please fill out this form: Seminar Change Request Form You must continue to attend the seminar listed in PowerSchool until a change has been made in your schedule.
Senior Portraits: If you would like to book a retake session with photographer Stacee Lianna, you may do so here: Click here to book a Senior Portrait Retake. Retakes are scheduled for January 28th at her studio in Palos Verdes. The cost for reshooting will be $25. Senior Portraits are available here: Click here for Senior Portraits The password to access your gallery is your Student ID Number.
Here's what's coming up:
Wednesday, 2/1: School Site Council Meeting @ 4:30pm via Zoom (

link here

)

Friday, 2/3: No School – Professional Development Day

Monday, 2/6: National School Counseling Week Begins

Monday, 2/20: No School – Presidents' Day

Friday, 2/24: Black History Month CD