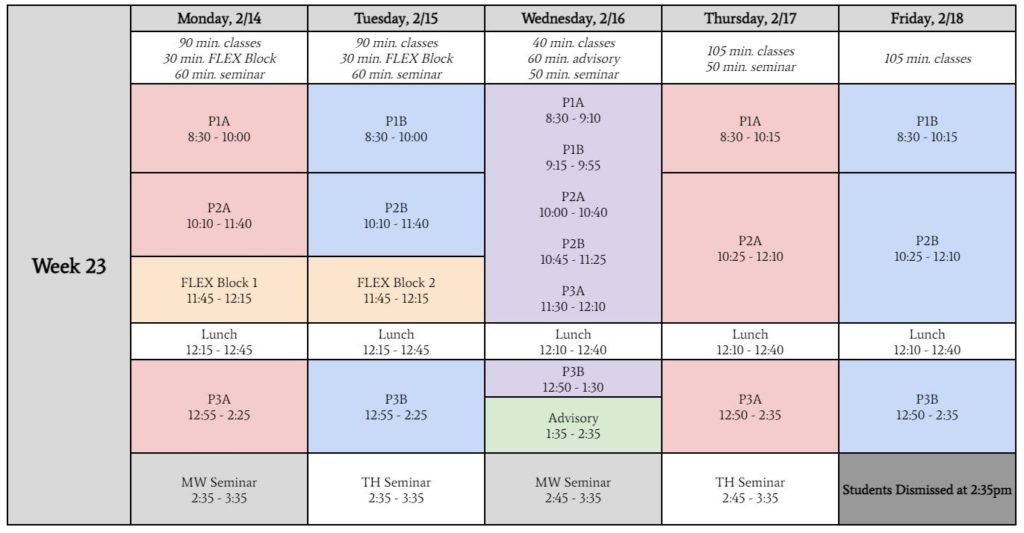 Happy Super Bowl Sunday, DVC Families,
Last week was a great one at DVC! Some of the highlights included learning about Historically Black Colleges & Universities (HBCUs) during Advisory and hearing our 9th grade students perform spoken word in our Common Area. 
We appreciate those of you who were able to attend our College Information Webinars hosted by our school counselors. If you were unable to attend, please view the recordings at the links below. Unfortunately, the recording for the 10th grade meeting did not work, so we only have the 9th and 11th grade recordings available.
9th Grade College Information Webinar Recording
11th Grade College Information Webinar Recording
The week ahead is also action-packed, so please read through all the events listed below:
Spirit Week: Next week is spirit week! We encourage all our students to participate in the fun and flex their DVC spirit. The spirit week themes are as follows: 
Monday, 2/14: Wear pink, red, white, or black

Tuesday, 2/15: Twin Tuesday

Wednesday, 2/16: PJ Day

Thursday, 2/17: Dress like you did in middle school

Friday, 2/18: Dress like a senior citizen
Blood Drive: Our National Honor Society is hosting a Blood Drive on Monday, 2/14 and all spots are full! Thank you to students, parents, and community members who have signed up to help with the national blood shortage: Red Cross Blood Drive @ DV on 2/14
Senior Cap & Gown Photo Makeups: Our photographer will be on campus on Thursday, 2/17 to take cap and gown photos for any seniors who have yet to take their photo. Seniors who would prefer to take the picture prior to the start of the school day can arrive as early as 7:45am to take their photo. All seniors who have yet to take a photo will be released from class to do so on Thursday, 2/17 as we are hoping for 100% of our senior class to be pictured in the yearbook in their cap and gown photos, and our yearbook deadline is rapidly approaching. If you would like to make sure you are scheduled for a photo or if you'd like to request a re-take, please visit this link: Cap & Gown Photos on 2/17
Black College Expo on Saturday, 2/19: DVC is interested in transporting interested students to and from the Black College Expo on Saturday, February 19, 2022 from 8:30 a.m.- 4:00 p.m.  If your child is interested in attending please fill out this form to reserve their spot no later than February 15th. Student Sign Up for Black College Expo (Sat, 2/19) If you are interested in supervising a group of students during  the Black College Expo on the field trip, please fill out this form by February 15th: Parent Sign Up for Black College Expo (Sat, 2/19)
Environmental Science Class Goes to Moonwater Farms: Students in Environmental Science have the amazing opportunity to do hands-on field work this semester with an urban farm in Compton called Moonwater Farm. They will be doing this fieldwork 7 different dates over the course of the semester and students will be learning hands-on science under the guidance of a master urban farmer and professor from Cal Poly Pomona. 
Project Reclaim Returns to DVC: The Reclaim Compost program launched this week at DVC! The Climate Action Team is teaching students how to sort their food waste during lunch and reducing our school's carbon footprint at the same time. This will be a sustainable practice so we can all do our part. Student leaders from the Marketing Pathway designed our logo and enabled the Reclaim Team to start a conservation culture. 
Here's a list of upcoming dates to include in your calendar:
Monday, 2/14: Red Cross Blood Drive & Environmental Science Trip to Moonwater Farms
Thursday, 2/17: Cap & Gown Photo Makeups
Saturday, 2/19: Black College Expo Field Trip
Monday, 2/21: No School – Presidents Day Holiday
Thursday, 2/24: Black History Month CD & DECA Conference in Anaheim Begins
Wednesday, 3/2: School Site Council Meeting @ 4:30pm
Monday, 3/7: Week of Student-Led Conferences (SLCs) Begins
Friday, 3/11: No School – Professional Development Day & DV Dance
Here's a link to the DVC Semester 2 Calendar. Here's a link to all the weekly schedules for the rest of the academic year: DVC Weekly Schedules
Wishing you a happy, healthy week ahead,
Erin