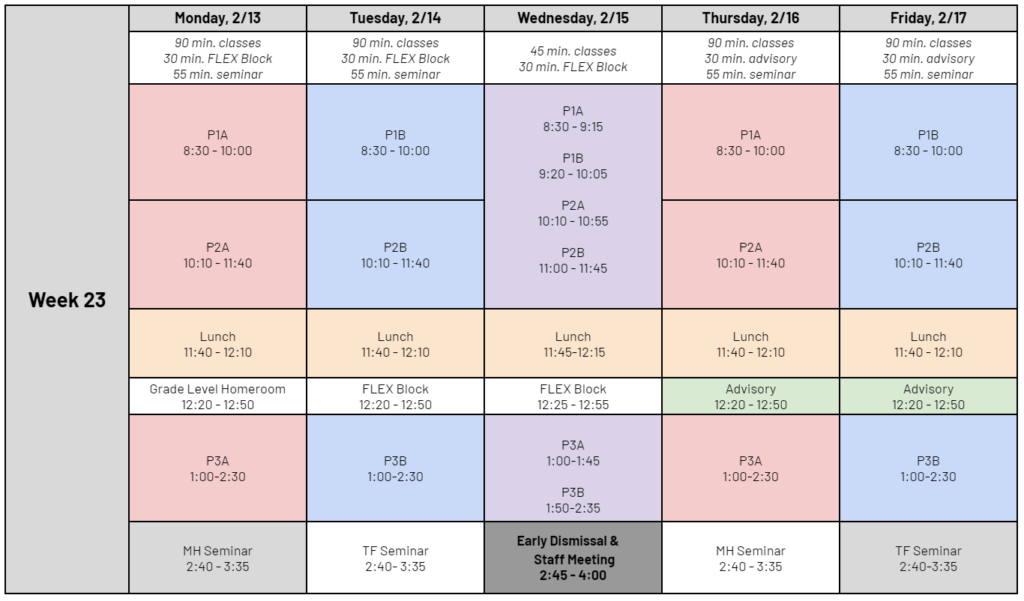 Happy Super Bowl Sunday, DVC! We are gearing up for an exciting spirit week full of events and field trips, and we continue to celebrate Black History Month! Please read below for the highlights.
Spirit Week: We have another spirit week this week! Please join us in the following themed days:
Monday, 2/13: Sports Day

Tuesday, 2/14: Wear Red, White, Pink, or Black Day

Wednesday, 2/15: PJ Day

Thursday, 2/16: College or Career Day

Friday, 2/17: Bikers vs. Surfers Day
Blood Drive on Monday: Celebrate the loving spirit of Valentine's Day and participate in a Blood Drive presented by DVC's National Honor Society on Monday, February 13th. The Red Cross will be set up in Da Vinci's Black Box from 9 am to 3 pm, and all Da Vinci School community members are welcome to donate. Invite your friends and family to contribute blood to those in need. You must be at least 16 years old and weigh 110 lbs to donate blood. If you are 16, you will need to complete a parental consent form before you are allowed to donate. Students 18 years old and younger have additional health and weight requirements to follow, so be sure to check that you are eligible to donate. Sign up here!
Field Trips: We are proud to be able to offer our students a variety of off-campus experiences, and we have several field trips scheduled for this week, including the following:
Monday, 2/13: Computer Science Trip to NAC (12th grade)

Wednesday, 2/15:

Marketing 2/Multimedia Journalism 2 Trip to the Reagan Library (12th Grade)

Wednesday, 2/15: Environmental Science Field Trip to LA Water Basin (11th Grade)
College & Career Parent Information Nights: Our DVC counselors are hosting a series of webinars about college & career preparation. Please mark your calendars for these virtual events. The webinars will be recorded and made available to families after the event.
After-School Tutoring: We are thrilled to be able to offer after school tutoring after school on Mondays and Thursdays from 3:35 – 4:35! Our tutor's name is Alex and he is willing to help with anything but specializes in math and science. This is open to all grade-levels and takes place in Ms. Flower's Room (3404).
Free GoPass Metro Cards: Da Vinci Schools is committed to providing equitable access and opportunity to all of our students and as part of those efforts we are excited to share that we are able to provide a free GoPass Metrocard, valid through June 30, 2023, to any student who would like one.  Once activated, the GoPass will provide free unlimited rides before school, afterschool, and on weekends on Metro bus and rail, City of Commerce Transit, Culver CityBus, Foothill Transit, Glendale Beeline, GTrans, LADOT Dash, LA County Shuttles, Long Beach Transit, Pasadena Transit, Santa Monica Big Blue Bus and Torrance Transit.  In order to get your free GoPasscard, please visit or contact DVC Office Manager Jackie Martinez (jmartinez@davincischools.org).
Here's what's coming up:
Monday, 2/13: Red Cross Blood Drive Hosted by DVC National Honor Society (

sign up here

)

Wednesday, 2/15: 11th Grade College & Career Parent Info Night @ 5pm via Zoom (

Meeting Link

)

Monday, 2/20: No School – Presidents' Day

Tuesday, 2/21: Senior Class Photo (New Date)

Wednesday, 2/22: 10th Grade College & Career Parent Info Night @ 5pm via Zoom (

Meeting Link

)

Friday, 2/24: Black History Month CD

Wednesday, 3/1: 12th Grade College & Career Parent Info Night @ 5pm via Zoom (

Meeting Link

)

Tuesday, 3/7: 9th Grade College & Career Parent Info Night @ 5pm via Zoom (

Meeting Link

)

Monday, 3/13 – Thursday, 3/16: Student-Led Conferences (minimum days)

Friday, 3/17: No School – Staff Development

Thursday, 6/8: DVC Class of 2023 Graduation (1pm start time)