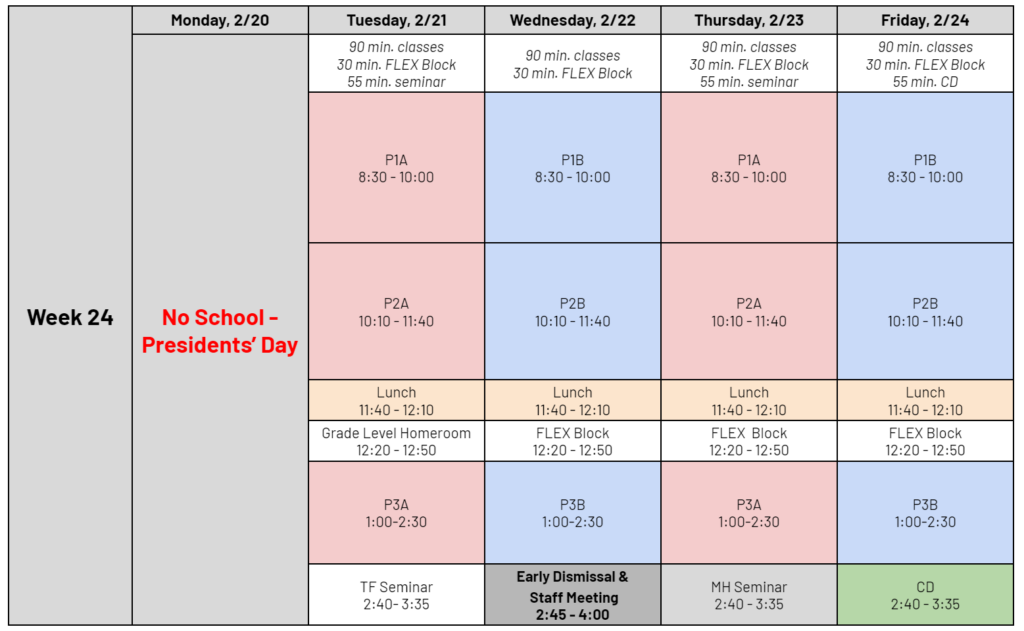 Happy Presidents' Day, DVC Families! There is no school today so this week is a 4-day week. We will finish the week with a CD in celebration of Black History Month organized and run by our Black Student Union. We are proud of all the work that our Black Student Union has done to create and lead lessons in advisory about Black People's Influence on the Arts! 
Spirit Week – Black History Month Edition: Please join us in the following themed days:
Tuesday, 2/21: Shoe Game

Wednesday, 2/22: Highlight a Black Artist

Thursday, 2/23: Dress to Impress / Sunday Best

Friday, 2/24: Wear Pan-African Flag Colors (red, black, green)
10th Grade College & Career Parent Information Nights: This week is our 10th grade college & career parent information webinar hosted by our own DVC counseling team. Please join us!
Wednesday, 2/22: 10th Grade College & Career Parent Info Night @ 5pm via Zoom (

Meeting Link

)
After-School Tutoring: We are thrilled to be able to offer after school tutoring after school on Mondays and Thursdays from 3:35 – 4:35! Our tutor's name is Alex and he is willing to help with anything but specializes in math and science. This is open to all grade-levels and takes place in Ms. Flower's Room (3404).
Here's what's coming up:
Wednesday, 2/22: 10th Grade College & Career Parent Info Night @ 5pm via Zoom (

Meeting Link

)

Friday, 2/24: Black History Month CD

Wednesday, 3/1: 12th Grade College & Career Parent Info Night @ 5pm via Zoom (

Meeting Link

)

Friday, 3/3 – Monday, 3/6: DECA State Career Development Conference Field Trip (Marketing Pathway)

Tuesday, 3/7: 9th Grade College & Career Parent Info Night @ 5pm via Zoom (

Meeting Link

)

Wednesday, 3/8: School Site Council Meeting @ 4:30pm via Zoom (

Meeting Link

) 

Monday, 3/13 – Thursday, 3/16: Student-Led Conferences (minimum days)

Friday, 3/17: No School – Staff Development

Thursday, 6/8: DVC Class of 2023 Graduation (1pm start time)
DVC Weekly Schedules Year 10 (2022-2023) & DVC Year 10 Planning Calendar (2022-2023)