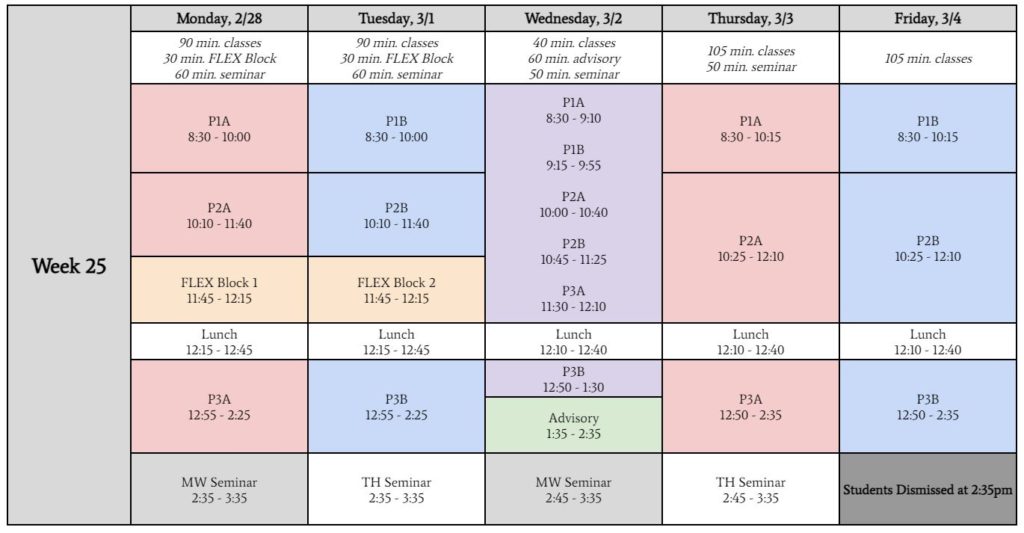 We had a terrific Black History Month CD on Thursday, filled with excellent and inspiring student performances! Thank you to our Black Student Union (BSU) and BLK University for making it happen. If you have Instagram, please follow us @dvchighschool to check out a few video clips from the event.
Student-Led Conferences are coming soon! All conferences will be virtual (via Zoom) starting on Monday, March 7th. Conferences will be scheduled with your student's advisory teacher. Students will be able to access the sign up link for their advisory teacher via google classroom, and we will also email out the link directly to families. Students are expected to prepare a presentation about their current academic progress, and a parent/guardian of the student is expected to attend the conference. Please stay tuned for more information!
This week, we have our School Site Council Meeting on Wednesday, 3/2 at 4:30pm via Zoom (link here). The agenda is as follows:
Public Comment

LCAP Mid-Year Update

WASC Mid-Cycle Report
As always, thank you for your support! You can find our working calendar of events here.
Upcoming Events:
3/7-3/10 Student-Led Conferences (via Zoom)
3/11 No School – Professional Development Day 
3/11 DV Dance
3/14 Environmental Science Fieldwork at Moonwater Farms
3/17 – 3/22 11th Grade CAASPP Testing
3/26 DV CARnival (Car Show)
3/28 Environmental Science to Moonwater Farms
3/31-4/2 FIRST Robotics Competition @ Da Vinci (Gym)
4/2 Da Vinci Schools Job Fair (for staff for 2022-2023 school year) 10am-noon
4/4 DVC Exhibition Night for 10th & 12th Grades 6:00-7:30pm
4/5 DVC Exhibition Night for 9th & 11th Grades 6:00-7:30pm
4/8 No School – Professional Development Day
4/9-4/17 Spring Break
4/30 Wiseburn Ed Foundation's Rock Around the Block @ Dana Middle School