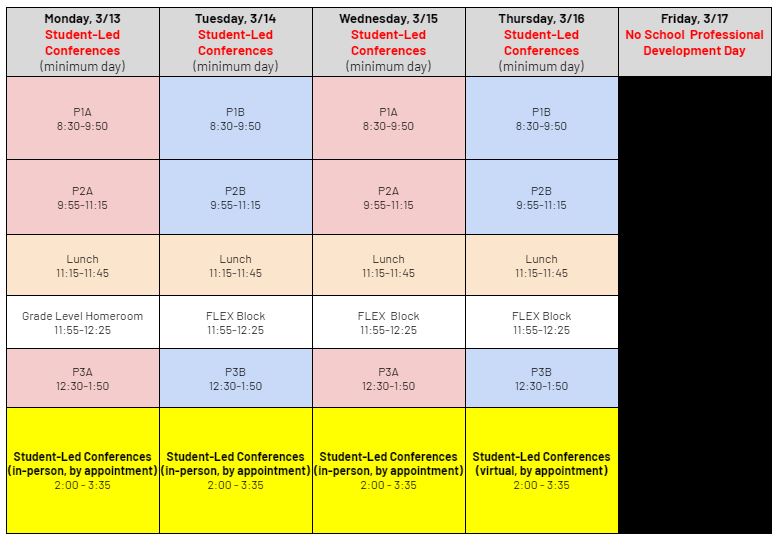 Student-Led Conferences begin tomorrow! We look forward to partnering with our families in support of each student's success. If you have yet to sign up for a conference, please contact your student's Grade Level Homeroom Teacher for the sign up link. Here are the general dates and times for our conferences:
IN PERSON, ON CAMPUS: 
Monday, March 13th from 2:00 – 3:30 PM 
Tuesday, March 14th from 2:00 – 3:30 PM 
Wednesday, March 15th from 2:00 – 3:30 PM 
VIRTUAL THROUGH ZOOM:
Thursday, March 16h from 2:00 – 3:40 PM
Students will be dismissed at 1:50pm this week in order to accommodate our conference schedule. There is no school on Friday, 3/17; it is a professional development day for DVC staff.
After School Tutoring: From 2pm – 3pm this week, we will have after school tutoring available for all students. If your student needs extra help in a subject (especially math or science), please have them take advantage of this opportunity. 
Exhibition Night: Mark your calendars! Our spring Exhibition Night is scheduled for Wednesday, March 29th from 5:30pm – 7:00pm. All students are expected to attend and our 9th and 11th grade students will be exhibiting their work. Please invite friends and family to this special event that is open to our entire community.
Da Vinci Schools CARnival: Da Vinci Schools will be hosting our 2nd annual CARnival on Saturday, March 25th from 10am-5pm! This fun day of games, food, entertainment, and cars is an important fundraiser that supports student activities and is open to the community! Please join us and invite your friends and family.
Here's what's coming up:
Monday, 3/13 – Thursday, 3/16: Student-Led Conferences (minimum days, 1:50pm dismissal)

Friday, 3/17: No School – Staff Development

Monday, 3/20: CAASPP English Language Arts Testing Begins (11th grade)

Tuesday, 3/21: Pathway & Elective Presentation to 10th Grade

Wednesday, 3/22: Marketing 1 Field Trip to Westwood / UCLA

Saturday, 3/25: CARnival Event (fundraiser and community event hosted by Da Vinci Schools)

Tuesday, 3/28: Credit Recovery Meeting (9th Grade)

Wednesday, 3/29: Exhibition Night (9th & 11th grades showcasing; all students expected to attend)

Friday, 3/31: No School – Cesar Chavez Day

Monday, 4/3 – Friday, 4/7: No School – Spring Break

Thursday, 6/8: DVC Class of 2023 Graduation (1pm start time)

Summer School Dates (for credit recovery): Session 1: June 13-June 30 Session 2: July 11-July 27