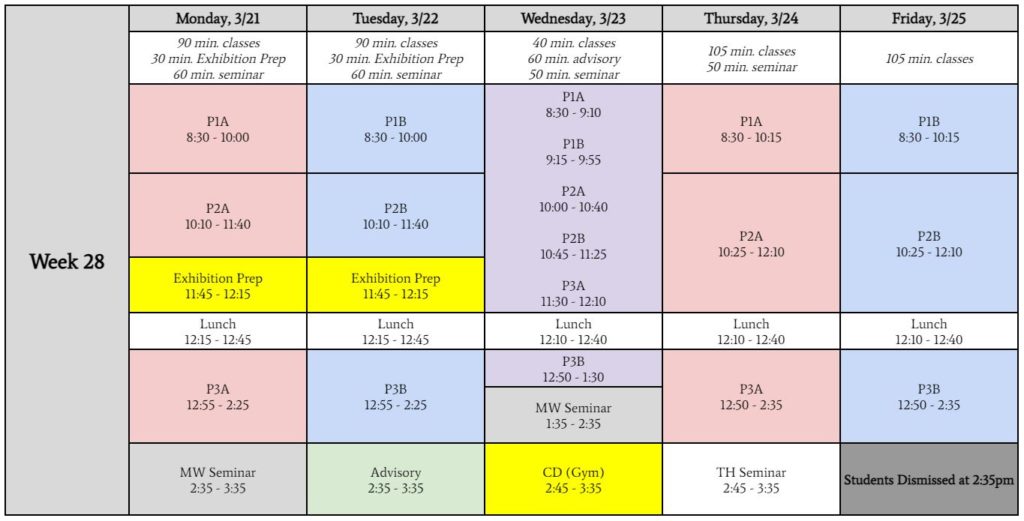 There were so many fun projects happening at DVC this week, including a Rocket Launch (Physics & Computer Science, 9th grade) and a Mock Crisis Press Conference (Marketing Pathway, 12th grade). Next week begins preparations for Exhibition Night, one of our favorite signature practices.
Exhibition Returns to Da Vinci: DVC is very excited to announce the return of Exhibition Night! In three weeks, students will showcase their projects for families and community members. Please note that masks will be required at Exhibition Nights as these are large indoor events with students, families, staff and community stakeholders present. Please see this email for the comprehensive update on masking, and mark your calendars with the dates and times listed below.:
Monday, 4/4 for Grades 10 & 12, 5:30pm – 7:00pm

Tuesday, 4/5 for Grades 9 & 11, 5:30pm – 7:00pm
Last Call for Surveys: If you have yet to do so, please take a few minutes to share your thoughts on how we're doing. We value your input and use it to shape our decisions. Use the links below to access the surveys:
DVC Spring Student Survey Link: https://www.surveymonkey.com/r/spring_2022_dvc_student_survey
DVC Spring Parent/Guardian Survey Link: https://www.surveymonkey.com/r/spring_2022_parent_survey
State Testing: Each year, our 11th grade students are required to take the California Assessment of Student Performance and Progress (CAASPP). Testing started this week for all 11th grade students and continues through May 5th. If you have any questions, please contact the Assistant Principal, Andrew Daramola (adaramola@davincischools.org). Here is the schedule for the state testing:
California Alternate Assessment (CAA): March 15 – 18

English-Language Arts: March 17 – March 22

Science (CAST): March 30 – April 1 

Mathematics: May 2 – May 5
Upcoming Events & Calendars: Here's a link to all the weekly schedules for the rest of the academic year: DVC Weekly Schedules  Here's a link to the DVC Semester 2 Calendar. Please note that we update this calendar regularly and make changes as needed.