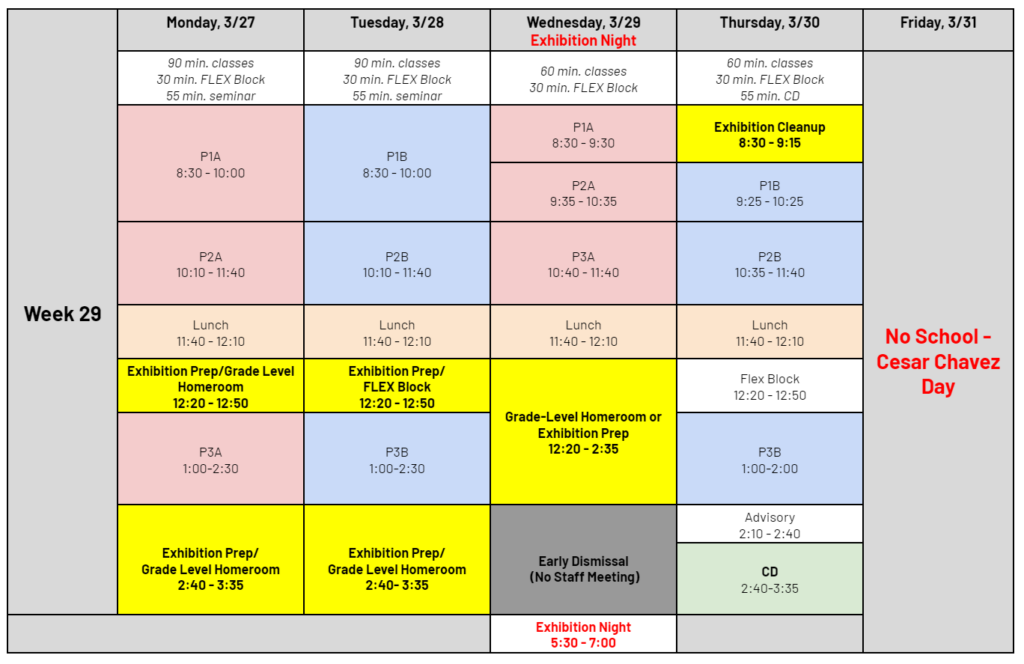 Exhibition Night is on Wednesday, March 29th from 5:30pm – 7:00pm! All students are expected to attend and our 9th and 11th grade students will be exhibiting their work. Please invite friends and family to this special event that is open to our entire community! We look forward to seeing you there.
Da Vinci Schools CARnival:

Da Vinci Schools will be hosting our 2nd annual CARnival on Saturday, March 25th from 10am-5pm! This fun day of games, food, entertainment, and cars is an important fundraiser that supports student activities and is open to the community! Please join us and invite your friends and family! For more information, check out

this CARnival website

. 
Pathway & Elective Presentations for 10th Grade:

We had a terrific Pathway & Elective Presentation for students this week! Please see

this slide deck

for more information regarding each of the course offerings listed below. Students will have the opportunity to see all pathways on display during Exhibition Night. The Pathway & Elective Preference Form will open on Thursday, March 30th and will be due on Friday, April 14th.

Electives: Ethnic Studies, Astronomy & Anatomy/Physiology, & Spanish 3

Pathways: Computer Science, Marketing, Media Production, & Multimedia Journalism
Spring 2023 Survey Results:

Thank you for sharing your feedback with us! You can review the data we collected here:

DVC Parent/Guardian Responses

&

DVC Student Responses

. We continue to work hard to address concerns and continue to build and maintain a positive school culture. We value your partnership in the education and well-being of our students.
State Testing:

Our 11th grade students began state testing this week. The testing will be done during their classes, with minimal disruption to the daily schedule. These are the weeks for the 11th grade state testing:

California English-Language Arts Test: Weeks of 3/20 and 3/27 during English classes

California Science Test: Week of 4/17 during Biology classes

California Math Test: Week of 5/1 during US History classes
Job Fair Opportunity:

The South Bay Workforce Investment Board (SBWIB) is hosting a Job Fair at El Camino College for youth & adults on Wednesday, April 19, 2023 from 9:00am – 1:30pm.

Da Vinci will have a bus that will take 50 students to El Camino College. Please note that spots are limited and not guaranteed. The deadline to RSVP is Monday, March 27 at 3 pm. Interested students must apply here:

Youth Job Fair Opportunity (Wednesday, April 19th) – Apply here

 
Senior Activities:

We are excited to celebrate the Class of 2023 in their final semester at DVC! Please

click on this link

for more information regarding Prom and Grad Night for the Class of 2023. Tickets can be purchased on MySchoolBucks.
Spring Break:

There is no school on Friday, 3/31 in observance of Cesar Chavez Day. There is also no school the following week (4/3 – 4/7) due to Spring Break. School resumes on Monday, April 10th. We wish you a happy, healthy break from the daily routine!
Here's what's coming up:
Saturday, 3/25: CARnival Event (fundraiser and community event hosted by Da Vinci Schools)

Wednesday, 3/29: Exhibition Night (9th & 11th grades showcasing; all students expected to attend)

Friday, 3/31: No School – Cesar Chavez Day

Monday, 4/3 – Friday, 4/7: No School – Spring Break

Thursday, 6/8: DVC Class of 2023 Graduation (1pm start time)

Summer School Dates (for credit recovery): Session 1: June 13-June 30 Session 2: July 11-July 27