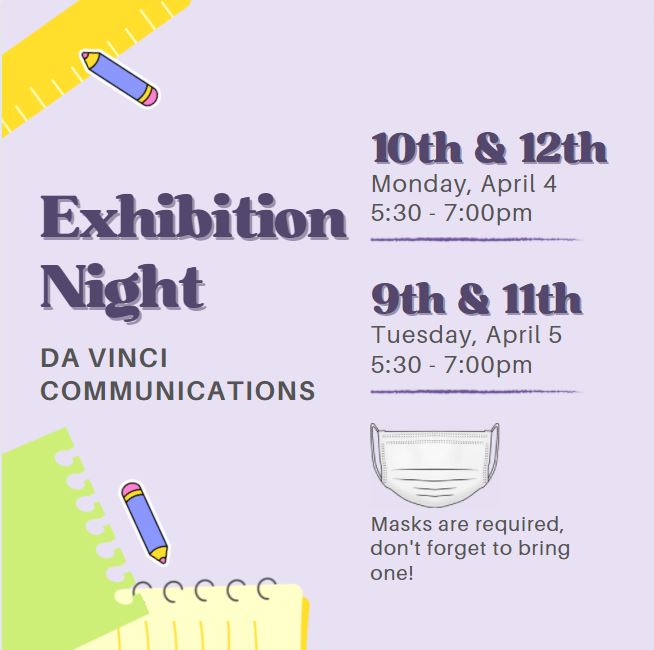 Exhibition: We are thrilled to welcome all DVC families and friends of DVC to our campus on Monday, 4/4 (tomorrow) and Tuesday, 4/5 from 5:30 – 7:00pm for our Exhibition Nights! Students have been working hard to produce creative displays of their work to engage and teach their audience what they've learned. Let's make sure the students get the support and engagement they deserve! We haven't had an Exhibition Night since Fall 2019 and we're thrilled to get the energy back on campus for this special showcase. Please click for a list of some of the awesome exhibits you'll see on Monday and Tuesday: DVC Exhibition Night Display Summaries (April 2022)
Week 30 Schedule: We have special grade-level schedules for students on Wednesday and Thursday of this week, with many not-to-miss opportunities including team-building fun and a Career Fair. Please be sure all students attend school next week and finish strong in this final week before spring break.
There is no school on Friday, 4/8, and then spring break is the week of Monday, 4/11. School resumes after spring break on Monday, 4/18. Here's a link to all the weekly schedules for the rest of the academic year: DVC Weekly Schedules  Here's a link to the DVC Semester 2 Calendar. Please note that we update this calendar regularly and make changes as needed. 
Thank you for your continued support of DVC,
Erin D'Souza
Principal