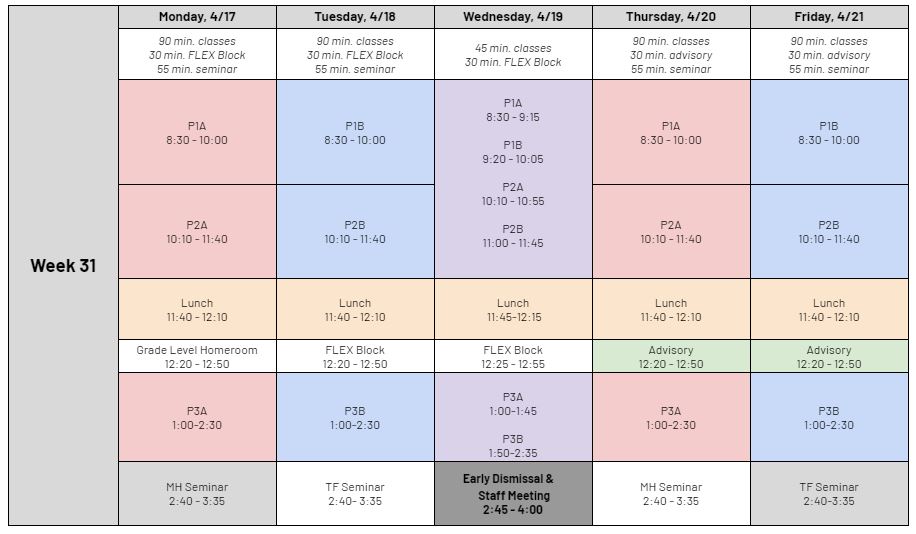 We had a great week back from spring break, and our 10th graders enjoyed a terrific trip to Cal State Fullerton & El Camino College. We are happy to support our students in thinking about life after high school. We are also especially proud of the DVC photography students who have an exhibit on display at the El Segundo Public Library until May 13th. If you didn't get the chance to attend the opening reception this past Thursday, you still have time to check it out! Please read below for more updates and opportunities:
State Testing  (11th Grade):

Our 11th grade students continue state testing next week. The testing will be done during their classes, with minimal disruption to the daily schedule. These are the remaining weeks for the 11th grade state testing:

California Science Test: Week of 4/17 during Biology classes

California Math Test: Week of 5/1 during US History classes
Rock Around the Block:

Wiseburn Education Foundation's Rock Around the Block is April 29th from 9:30am – 2:30pm! Get a jump ahead by purchasing your food and tickets for the day. While you are planning your day, please consider volunteering for a shift. There is something for everyone! We all know that volunteers help an event run smoothly and we all want to ensure the best possible day for everyone. The links to presale tickets and volunteer sign-up can be found at

www.bit.ly/WEF2023RAB

.
Information Meeting Regarding Da Vinci Extension:

On Thursday, 4/20 at 6:30pm in the Black Box Theater on campus, there will be an information session for 12th grade families regarding the opportunity to pursue college through Da Vinci.

Click

here

for more info.
Youth Board Representative (Del Aire Neighborhood):

The Del Aire Neighborhood Association (DNA)  is looking for 1-2 high-school student leaders who want to serve as YOUTH BOARD REPRESENTATIVES who can help the organization grow, plan community events, and advocate for neighborhood improvements like the Greenway! You can find the application

here

– apply by April 19th.
Johnstone Scholarship Application:

The 5th annual Johnstone Scholarship application is now open and ready for Da Vinci seniors to apply!  Applications are due Thursday April 28th by midnight. The application link is

bit.ly/JohnstoneScholarship2023
Here's a list of what's coming up:
Monday, 4/17 – Friday, 4/21: California Science Test – CAST during Biology Classes (11th grade)

Wednesday, 4/19: College Field Trip to Cal Poly Pomona & Loyola Marymount University (11th grade)

Friday, 4/21 – Tuesday, 4/25: DECA International Career Development Conference (Orlando, Florida)

Wednesday, 4/26: Field Trip to Homeboy Industries & Olvera Street (Ethnic Studies Class)

Wednesday, 4/26: Computer Science Senior Project Showcase (12th grade)

Friday, 4/28: Field Trip to El Camino College (12th grade)

Friday, 4/28: Field Trip to NACAC College Fair (11th grade)

Monday, 5/1 – Thursday, 5/4: Mathematics CAASPP Testing during US History Classes (11th grade)

Tuesday, 5/2: Field Trip to 72andSunny (12th grade- Marketing)

Wednesday, 5/3: Field Trip to Moonwater Farms (Environmental Science Class)

Friday, 5/5: No School Professional Development Day

Friday, 5/5: Da Vinci Schools Prom @ The Proud Bird

Thursday, 6/8: DVC Class of 2023 Graduation (1pm start time)

Summer School Dates (for credit recovery): Session 1: June 13-June 30 Session 2: July 11-July 27