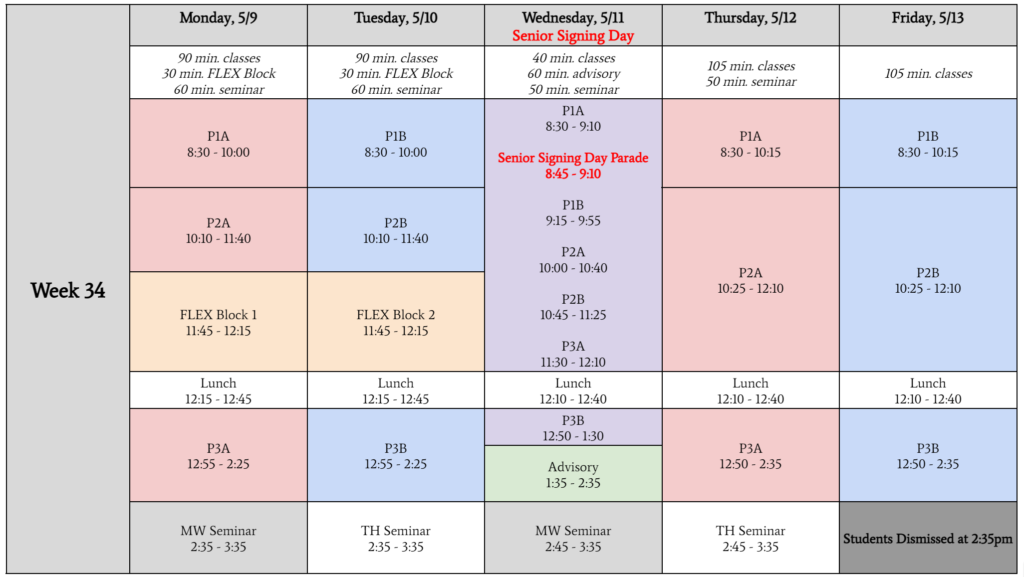 Thank you so much for all the DVC families who decorated doors on Sunday, brought snacks throughout the week, and donated gift cards during Staff Appreciation Week! We felt well-celebrated this week, and we are grateful for your ongoing generosity and support. Please follow us @dvchighschool on Instagram to watch DVC staff competing in funny challenges for gift cards yesterday!
The DV Prom was last night and we enjoyed seeing our students dressed up in such fancy attire! We hope that everyone who attended had a fun and safe experience.
College Acceptances: Our seniors got accepted to 176 different colleges this year (check out the list here!) and we are thrilled to celebrate their accomplishments and commitments next week! Our counseling team has put together a Senior Spirit Week with a special College Signing Day on Wednesday, 5/11! Click the links for details. This is another new event for us that we hope to make an annual tradition. The Senior Spirit Week plans are as follows:
Monday, 5/9: All Seniors Wear Purple
Tuesday, 5/10: Throwback (Dress up like you did in your freshman, sophomore, or junior year)
Wednesday, 5/11: Rep your Future (Wear college, career, or military colors)
Thursday, 5/12: Dress up as your favorite teacher or someone who helped you get where you are today
Friday, 5/13: Inside Out Day (dress as the emotions you're feeling about graduating or college)
School Site Council: On Wednesday, May 11 at 5pm, we have our final School Site Council Meeting over Zoom (link here). The agenda is as follows:
Public Comment

LCAP: Thoughts for 22-23 School Year

Farewell to Outgoing SSC Members

Plans for SSC for 22-23 School Year 
Here's a list of upcoming events, but please also consult these two resources: DVC Year 9 Planning Calendar (2021-2022) and the DVC Weekly Schedules for the most up to date information. We update this calendar regularly and make changes as needed. 
Monday, 5/9: Computer Science Principles Test

Wednesday, 5/11: College Signing Day (8:30 – 12:10) & School Site Council Meeting @ 5pm (

link

)

Tuesday, 5/17: 9th Grade Retreat at Camp Pondo in Running Springs, CA

Friday, 5/27: Last Day for Seniors to Complete Coursework Required for Graduation

Tuesday, 5/31: POL Schedule Begins: Minimum Days – students dismissed at 1:40pm
Wishing all the mothers a Happy Mothers' Day on Sunday,
Erin