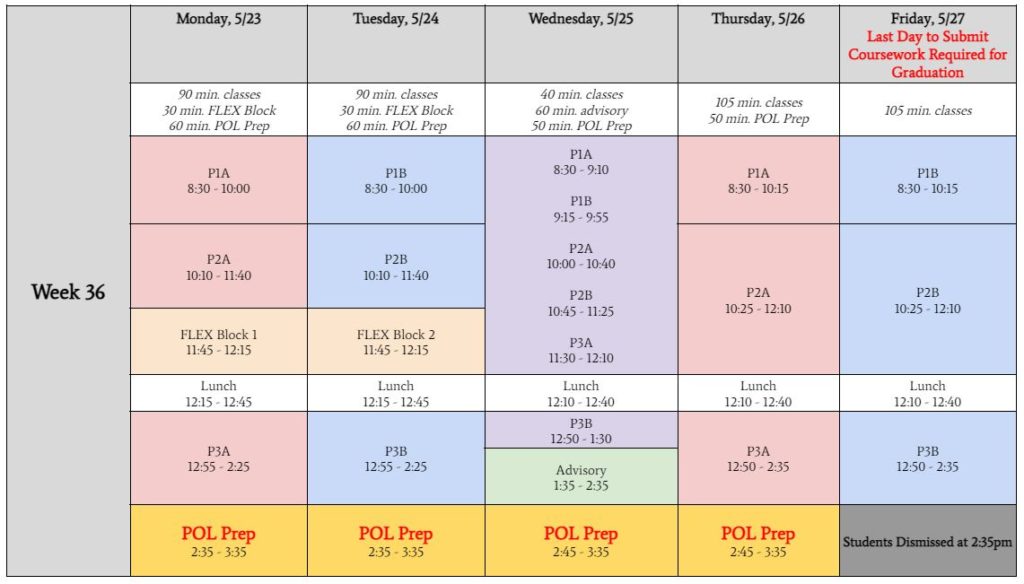 What a blast we had at Camp Pondo with the Class of 2025! Students and families are able to access the photos from both the 9th and 10th grade retreats at the following links: 
We also had a terrific showcase of our pathways and our elective course offerings on Thursday afternoon. Students in 9th & 10th grade who have successfully completed Graphic Communications will be eligible to choose an elective course for the 22-23 school year. Forms for course selection will be available soon on Google Classroom!
Next week is the final week of classes before we begin Presentations of Learning (POLs) and Final Exams. The last day of academic instruction for the semester is Friday, May 27th, and all coursework needed for graduation is due at this time. Please check your student's grades on PowerSchool and email teachers if you have any questions or concerns.
Looking Ahead:
Friday, 5/27: Last Day for Seniors to Complete Coursework Required for Graduation

Tuesday, 5/31: POL Schedule Begins: Minimum Days – students dismissed at 1:40pm

Thursday, 6/2: 12th Grade DTLA Field Trip

Friday, 6/3: Disneyland Grad Night (12th Grade)

Monday, 6/6: FUTURES Graduation

Tuesday, 6/7: Senior Awards @ 9:00 & Graduation Practice @ 12:00

Wednesday, 6/8: Last Day of the School Year

Thursday, 6/9: Class of 2022 Graduation @ 11am (Invitation Only)
Please continue to consult this DVC Year 9 Planning Calendar (2021-2022) as well as the DVC Weekly Schedules for the most up to date information.