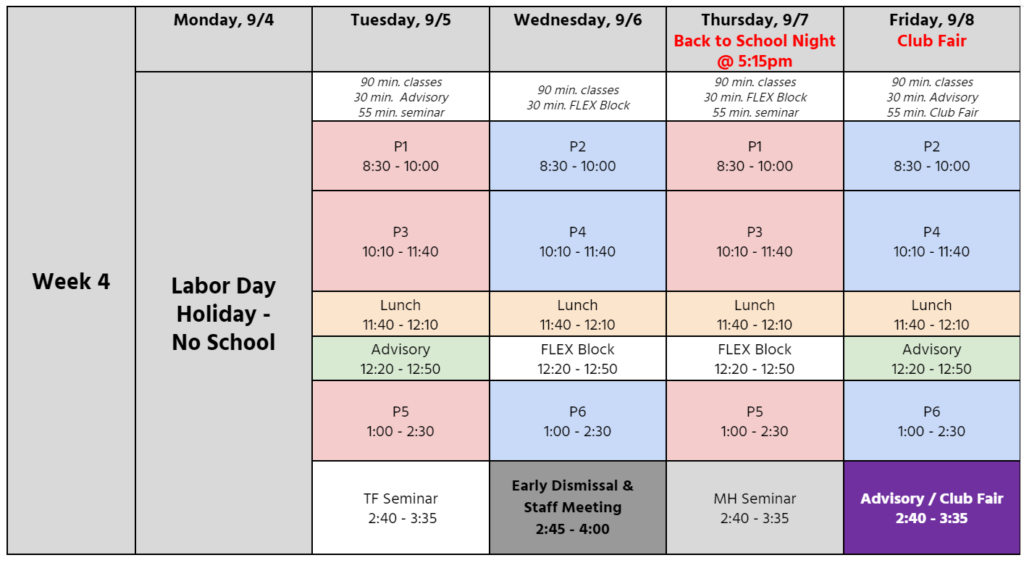 Happy Friday, DVC Families!
Next week is short but busy, with the highlights being Picture Days on Tuesday & Wednesday, Back to School Night on Thursday, and the DVC Club Fair on Friday! As a reminder, there is no school on Monday due to the Labor Day Holiday.
Picture Day: All students will have their picture taken on Tuesday or Wednesday. Students will get their picture taken during English class. Click here for the Picture Day Schedule. 
If you didn't get the opportunity to purchase last year's school picture, you may do so at this link:

DVC Picture Day 2022 – StaceeLianna

You need to know the name of your student's advisory teacher from last year to locate their photo. 
Back to School Night on Thursday, 9/7: We are excited to welcome all parents and guardians into our classrooms on Thursday, September 7th for Back to School Night! We will be starting a presentation in the Black Box Theater at 5:15pm. Yes, this is earlier than we previously stated, but we want to make sure you have ample time to get all the information you need, including how to make a Canvas account! Click here for the Back to School Night Schedule.
Canvas Access: Parents and guardians are able to see student grades and assignments on Canvas, our Learning Management Platform. Please use these resources to create your account and link to your child's account: Da Vinci Canvas: Parent/Guardian Accounts How-To Website  If you are having difficulty, we will be happy to help you at Back to School Night.
Club Fair on Friday, 9/8: All students will get the opportunity to join DVC Clubs on Friday, 9/8 at the end of the day. It is our hope that every student joins one or more clubs! We look forward to getting those sign ups!
Tutoring: We are pleased to offer free after school tutoring Mondays through Thursdays! Our tutor, Alex, specializes in math and science, but he is willing to help all students in all subjects. Tutoring will take place in Room 3206 (Rob's room) according to the following schedule:
Monday, 3:35 – 4:30

Tuesday, 3:35 – 4:30 (2 hours of tutoring available on early dismissal Wednesdays)

Wednesday, 2:30 – 4:30

Thursday, 3:35 – 4:30

No tutoring on Fridays
Schedule Changes: At this time, the Schedule Change Request Form is closed. We will do our best to accommodate as many requests as possible of the requests already submitted. Counselors will be working to solidify any remaining changes to schedules next week.
Here's what's coming up:
Monday, 9/4: No School – Labor Day Holiday 

Tuesday, 9/5: Picture Day (during English class)

Wednesday, 9/6: Picture Day (during English class)

Thursday, 9/7: Back to School Night @ 5:15pm

Friday, 9/8: Club Fair

Thursday, 9/14: First Schoolwide CD (School Assembly)

Friday, 9/15: No School – Professional Development Day

Saturday, 9/16: Latino College Expo
Please bookmark this school calendar for the most up to date information. 
Wishing you a happy, healthy holiday weekend,
Erin D'Souza, Principal