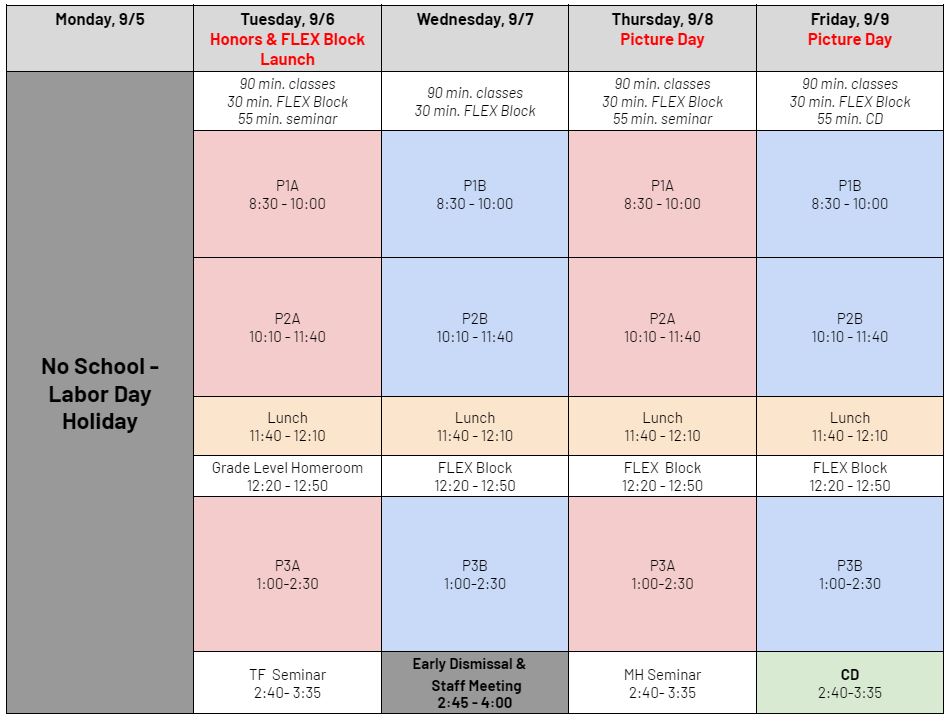 Dear DVC Students and Families,
I hope you are enjoying the Labor Day holiday and trying to stay cool and healthy this weekend! Last week, the Class of 2026 had a terrific time at The Overnighter. Students were immersed in DVC culture by building relationships, having fun, playing games, and engaging in meaningful discussions about the type of school they want to have, and the type of people they want to be. Thank you to all the parents, students, and staff that made this event possible! We are especially grateful to the Da Vinci Schools Board of Trustees for approving this special trip.
Week 4 Schedule: We have a busy four-day week ahead of us, including the launch of FLEX Block, Honors, and our School Picture Days!
FLEX Block:

FLEX Block is a time for all students to choose which class they'd like to attend for extra help and support. Students will be presented with their options on the first day of the week during Grade-Level Homeroom. During that time, they will select their FLEX Blocks for the remainder of the week. 

Honors:

The purpose of the honors program at DVC is to allow all students the opportunity to demonstrate deeper learning in a subject area, emulating conditions that best prepare students for a rigorous college or university program upon high school graduation. Students who successfully meet the honors requirements in a course earn an honors designation in that course on their transcript as well as an additional point added to their GPA. Teachers will be explaining how honors will work in their classes starting this week.

Picture Days:

Students will be taking pictures in their English classes on Thursday, 9/8 and Friday, 9/9. Your picture day is whichever day you have English class.

School Site Council Meeting:

We have rescheduled our first School Site Council Meeting and the new date is Wednesday, 9/28. Stay tuned for more information about participating in our School Site Council this year!
Here's what's coming up:
Tuesday, 9/6: FLEX Block Begins

Thursday, 9/8: DVC Picture Day (during English class)

Friday, 9/9: DVC Picture Day  (during English class)

Thursday, 9/15: Club Fair

Thursday, 9/15: Back to School Night @ 5:30pm

Friday, 9/16: No School – Professional Development Day

Wednesday, 9/28: School Site Council Meeting #1 

Wednesday, 10/12: PSAT for Grades 9, 10, & 11 / 12th Grade College Trip

Thursday, 10/13: No School – Professional Development Day

Friday, 10/14: No School – Professional Development Day
Please bookmark this school calendar for the most up to date information. For all weekly schedules, please bookmark this link: DVC Weekly Schedules Year 10 (2022-2023)
Sincerely,
Erin D'Souza, Principal