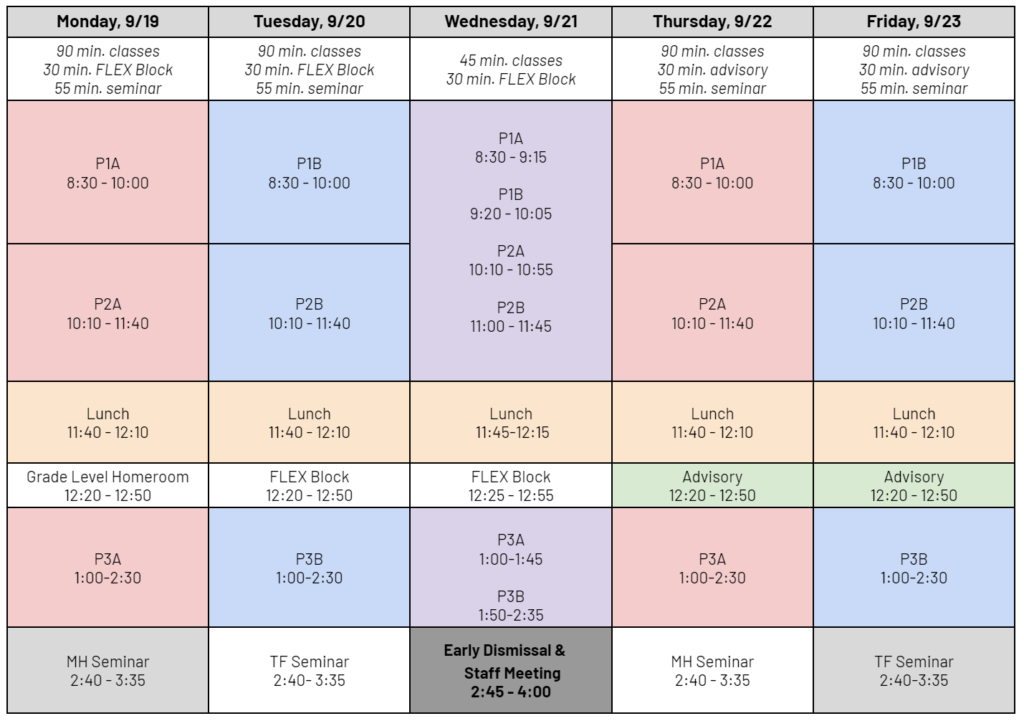 Dear DVC Students and Families,
We had a terrific week at DVC! We were thrilled to welcome parents and guardians to DVC on Thursday night for Back to School Night, and we had a terrific club fair on Thursday afternoon! Shoutouts to all the club leaders who did a great job organizing and recruiting members for their clubs.
Back to School Night Follow-Up: If you weren't able to attend Back to School Night, please watch this short video from the principals about the basics of DVC: Back to School Night Message from the Principals
PowerSchool Access: All parents and guardians at Back to School Night received PowerSchool login information. PowerSchool is our student information system, and you can find information on both grades and attendance there. We do not mail home progress reports; we ask you to check your student's grades regularly and join us for Student-Led Conferences (SLCs) during the week of October 7th. The semester ends on Thursday, December 15, 2022, and final grades earned at this time will be recorded on the student's high school transcript. If you have any questions regarding PowerSchool access, please contact Office Manager Jackie Martinez at jmartinez@davincischools.org. 
Canvas Access: Several teachers at DVC are using Canvas as their learning management platform. This is our first year with this new platform, so we are learning about it as we use it. It is our hope that  all teachers will transition to Canvas as our learning management platform in January. We will be issuing logins for Canvas to all parents and guardians soon; the logins will be emailed to you as soon as they are available.
Picture Day Makeups: We request that all students who have yet to take a school picture this year arrive at school ready to be photographed on Tuesday, 9/20. Students in Ms. Regina's Period 3B, Ms. Flower's Period 3B, and Ms. Hapner's Period 3B will be photographed during Period 3B in the afternoon with their classes.
School Site Council: Thank you to the parents and guardians who indicated interest in the School Site Council! We have five candidates for three positions; please vote using this form: School Site Council Election Form for Parent/Guardian Representation The three candidates with the highest number of votes will be elected to the School Site Council for the 22-23 school year. The first School Site Council Meeting is scheduled for Wednesday, 9/28 at 5pm on Zoom. 
Here's what's coming up:
Tuesday, 9/20: Picture Day Makeups

Wednesday, 9/28: School Site Council Meeting #1 @ 5pm via Zoom

Wednesday, 10/12: PSAT for Grades 9, 10, & 11 / 12th Grade College Trip

Thursday, 10/13: No School – Professional Development Day

Friday, 10/14: No School – Professional Development Day

Monday, 10/17 – Thursday, 10/20: Student-Led Conferences (1:45pm dismissal)

Friday, 11/11: No School – Veterans Day Holiday

Thursday, 11/17: Exhibition Night (grades 10 & 12)

Monday, 11/21 – Friday, 11/25: No School – Thanksgiving Break

Thursday, 12/8 – Thursday, 12/15: Presentations of Learning – POLs (1:50pm dismissal)
Please bookmark this school calendar for the most up to date information. For all weekly schedules, please bookmark this link: DVC Weekly Schedules Year 10 (2022-2023)
Happy weekend,
Erin D'Souza, Principal