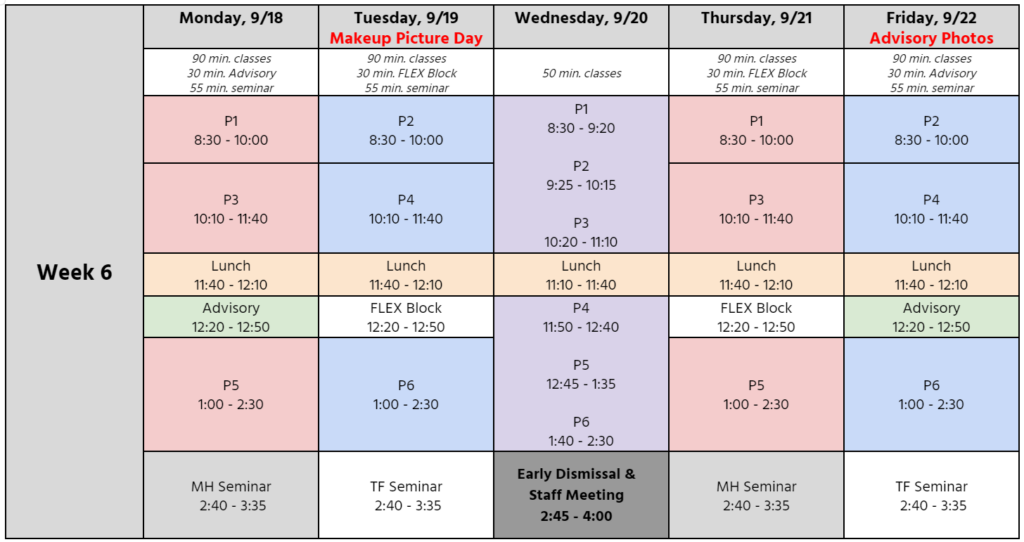 Spirit week was awesome and we finished with our first CD (Community Dialogue) of the year in the gym! It was Barbie-themed and we gave out All-Star Awards as well as played a great game of limbo for points in our year-long Advisory Olympics Competition. Congratulations to all the winners!
Latinx Heritage Month: Yesterday marked the start of Latinx Heritage Month, which takes place September 15th to October 15th every year as a time to recognize and celebrate the many contributions, diverse cultures, and extensive histories of the American Latino community. We have about 40 DVC students attending the Latino College Expo today, and our Latino Student Union (L.S.U.) leads the recognition and celebration throughout the next four weeks. Our next CD on Thursday, October 12th will be led by the Latino Student Union. Students interested in participating should contact Ms. Noemy Carrillo (ncarrillo@davincischools.org). 
Make-Up Picture Day: Students who did not get their picture taken on 9/5 or 9/6 will be called out of class on Tuesday, 9/19 to take their school photo. We will let you know when the photos are available for purchase.
Advisory Photos: On Friday, 9/22, students will take a group picture during Advisory for the yearbook. 
Student-Led Conferences: Please note that Student-Led Conferences will take place during the week of Monday, October 2nd. Sign ups will be available no later than Monday, September 25th. We ask that you make time during this week to conference with us regarding your student's progress. Each grade-level will run their conferences differently in order to best meet the needs of our families. Stay tuned for more information.
PSAT: All 9th, 10th, and 11th grade students will be taking the PSAT on Wednesday, 10/4. This test is paid for by the school and free for DVC students. More info about the day (schedule, etc.) will be released closer to the date. 
Parent Advisory Committee (PAC): The Parent Advisory Committee is an opportunity for parents, students, & staff to work collaboratively to:
review the school program,

review data and identify needs, &

make recommendations regarding the School Safety Plan & the Local Control and Accountability Plan (LCAP).
This group replaces the School Site Council (SSC) but serves the same purpose. If you are interested in participating in the Parent Advisory Committee, please complete this interest form. There will not be elections (as was necessary for the School Site Council), but instead it is important that we have a Parent Advisory Committee (PAC) that represents the demographics of our school. If you have any questions, please contact Erin D'Souza, Principal at edsouza@davincischools.org. 
Research Study @ DVC: Suneal Kolluri, a professor from UC Riverside, will be studying equity and merit at DVC. As a part of his research, he will be conducting surveys, observations, and interviews with some students. Please read the documents LINKED HERE. If you would prefer to opt your child out of the observation and/or survey portion of the study, please follow the instruction at the bottom of the document. No student interviews will be conducted without signed parental consent.
Here's what's coming up:
Saturday, 9/16: Latino College Expo

Tuesday, 9/19: Makeup Picture Day

Friday, 9/22: Advisory Picture Day

Monday, 9/25: Student-Led Conference Sign Ups Available

Monday, 10/2: Student-Led Conferences Begin

Wednesday, 10/4: PSAT Day (9th, 10th, and 11th grades)
Bookmark these links:
Wishing you a great weekend,
Erin D'Souza, Principal