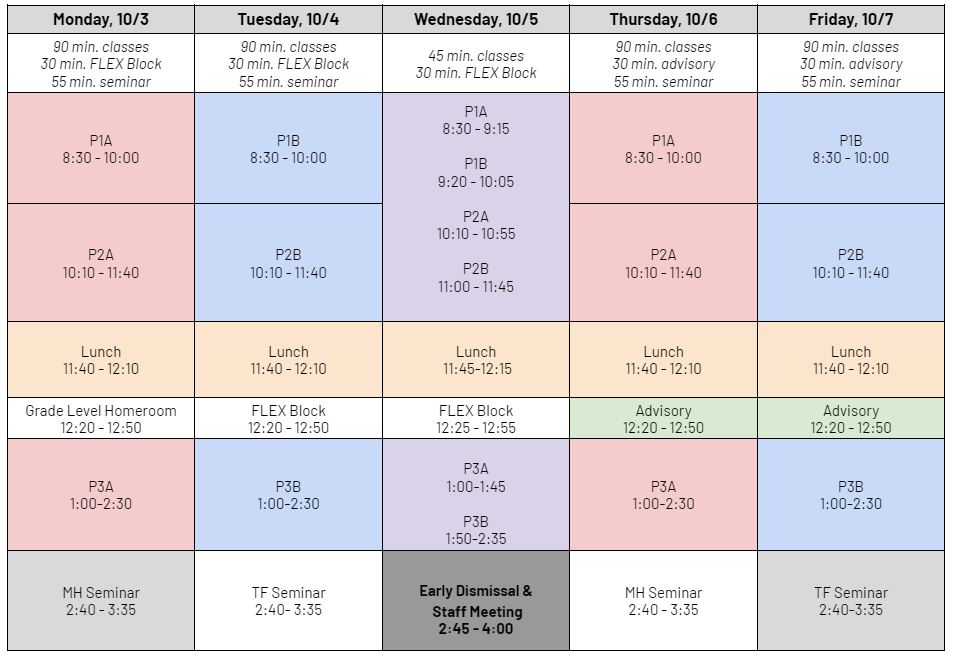 Dear DVC Students and Families,
We had a great week at DVC and we're looking forward to week 8! Please see some notes below – be sure to look out for Student-Led Conference (SLC) sign ups on Monday, 10/3. Students will be receiving sign-up links and information during grade-level homeroom.
Canvas Access: Canvas is our new learning management platform. All parents/guardians should have received an email with access to Canvas this week. One of the reasons we adopted Canvas is because parents and students did not have a single place where they could access both assignments and grades. With Canvas, both assignments and grades can be accessed with the same login. We are excited for all teachers to use Canvas in January, and we have a brave team of teachers who have been working this semester on the best way to use this awesome new platform. The list of teachers currently using Canvas this semester is as follows:
Ms. Noemy Carrillo, Spanish 1

Mr. David Wilson, Algebra 1 & Data Science

Ms. Regina Flores, English 9

Mr. Andy Galbraith, Computer Science

Mr. Einstein Lopez, Physics

Ms. Dani Guerrero, World History

Ms. Lolita Go, Biology

Mr. Tim Regalado, Government

Mr. Christopher Jackson, College & Career Readiness

Mr. Gerardo Sandoval, Geometry, PreCalculus & Calculus
PowerSchool Access: PowerSchool remains our student information system, and you can access your student's attendance records from PowerSchool. Many parents/guardians received login information for PowerSchool at Back to School Night. If you don't have access to PowerSchool, please know that an email with instructions about how to set up a parent/guardian account is coming soon.
PSAT for Grades 9, 10, & 11: Please note that 9th, 10th, and 11th grade students will take the PSAT on Wednesday, October 12th. It is important that all students bring a calculator to school with them as there are parts of the test that allow for calculators and we do not have enough calculators for every student at the same time. The start time of the test is 8:30am; please make every effort to arrive at school on time. A late arrival may mean that a student is not able to participate in this college-entrance preparation test.
Student-Led Conferences (SLCs): Parents & guardians are expected to attend their student's conference during the week of 10/17. Signups will be made available to students on Monday, 10/3 during Grade-Level Homeroom. The first two days (10/17 and 10/18) will be in person, on campus conferences. The next two days (10/19 and 10/20) will be virtual conferences through Zoom. Please reserve the Zoom options for families that have no other option and need a Zoom meeting. Here is a recap of the information below:
Monday, October 17

th

from 2:00 – 3:30 PM (In person, on campus conferences)

Tuesday, October 18

th

from 2:00 – 3:30 PM (In person, on campus conferences)

Wednesday, October 19

th

from 2:00 – 3:30 PM (Virtual conferences through Zoom)

Thursday, October 20th from 2:00 – 3:30 PM (Virtual conferences through Zoom)
Here's what's coming up:
Wednesday, 10/12: PSAT for Grades 9, 10, & 11 / 12th Grade College Trip

Thursday, 10/13: No School – Professional Development Day

Friday, 10/14: No School – Professional Development Day

Monday, 10/17 – Thursday, 10/20: Student-Led Conferences (1:50pm dismissal)

Friday, 11/11: No School – Veterans Day Holiday

Thursday, 11/17: Exhibition Night (grades 10 & 12)

Monday, 11/21 – Friday, 11/25: No School – Thanksgiving Break

Thursday, 12/8 – Thursday, 12/15: Presentations of Learning – POLs (1:50pm dismissal)
Please bookmark this school calendar for the most up to date information. For all weekly schedules, please bookmark this link: DVC Weekly Schedules Year 10 (2022-2023)
Sincerely,
Erin D'Souza, Principal