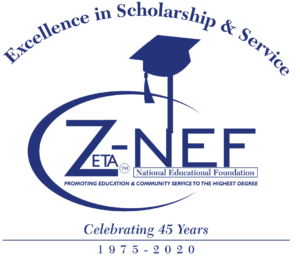 What is ZNEF?
The mission of the Zeta Phi Beta Sorority, Inc.'s National Educational Foundation is to support higher education achievement through scholarships and conduct community education programs and related research to improve individual and community living standards. The Foundation annually provides financial assistance to worthy students pursuing higher education both at the Undergraduate and Graduate levels.
Learn more about ZNEF.
How do I use this portal?
Want to apply for a scholarship offered by the Zeta National Educational Foundation? Every scholarship has requirements that applicants must meet. This site provides you with access to 15 scholarships that have a range of award values, including the $100,000 Founders' Centennial Scholarship! Take the eligibility quiz to be matched with scholarships.
Visit the Scholarship Programs page to learn more about each scholarship opportunity.
Register for portal access, then take the Eligibility Quiz to be matched with scholarships. Upon completion of the Eligibility Quiz, if you qualify, you will receive a prompt to select up to 3 of the 13 ZNEF Scholarships (not including ZOL or Life Members). Completing one ZNEF application will populate all three of your ZNEF scholarship information pages (There may be additional information needed for each, however). You may also qualify for additional scholarships from ZOL or Life Members, if eligibility criteria is met. 
**Register NOW. If you already have an account, you do NOT have to create a new one.**
Scholarships available for 2021-22 submission:
General Scholarship Program
Founders' Centennial – Female HS Seniors ONLY
GEICO HBCU High School Changemaker Scholarship – Female HS Seniors ONLY
GEICO HBCU Undergraduate Changemaker Scholarships – Zetas ONLY
ZNEF Scholarship Program
Mildred Spicer West Scholarship – High Honors/Leadership
Arizona Cleaver Stemons Scholarship
General Undergraduate
General Graduate
HBCU Scholarship
STEM Scholarship
S. Evelyn Lewis Memorial Medical Health Science Scholarship
Isabel M. Herson ~Scholarship in Education
Deborah Partridge Wolfe ~ International Fellowship
The Zora Neale Hurston Scholarship
Lullellia W. Harrison~ Counseling Scholarship
Questions? Contact support at admin@znef.org