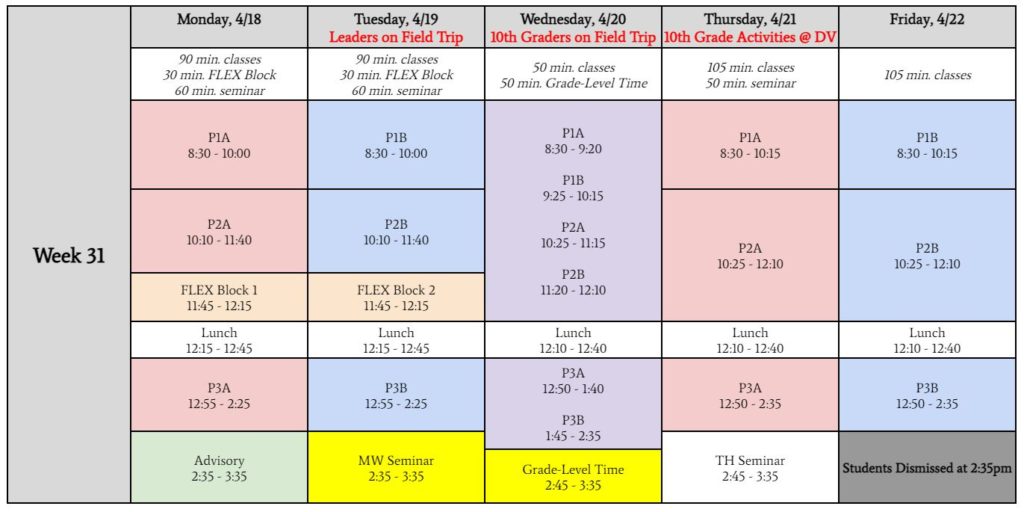 Welcome back! We are looking forward to seeing our students tomorrow morning (Monday, 4/18). We hope that this week was one of rest and rejuvenation for students and their families. 
Exhibition Night Photos: We continue to be impressed by the work our students showcased at Exhibition Nights on April 4th and 5th. Our professional photographer, Stacee Lianna, captured some highlights of the night. You can see her pictures here: Photos from 9th & 11th Grade Exhibition Night and Photos from 10th & 12th Grade Exhibition Night
This week and next week are both busy and exciting! As a result, the weekly schedules are a little different than usual. Here's a link to all the weekly schedules for the rest of the academic year: DVC Weekly Schedules  Here's a link to the DVC Semester 2 Calendar. Please note that we update this calendar regularly and make changes as needed. 
Please read below for an overview of some of the special events coming up this week and next week:
10th Grade Retreat to Running Springs (Wednesday, 4/20): Our 10th grade students are scheduled to spend all day Wednesday, April 20th in Running Springs, California (near Big Bear Lake)! We are asking all 10th grade students to arrive at DVC by 8:00am on Wednesday. We will be returning to DVC around 9:00pm that evening. Please see information about what to bring (and what not to bring) at this link: DVC Retreat Information for Students and Families All students are required to have completed these permission forms and submit them to their Grade-Level Homeroom Teacher by Tuesday, April 19th. For more details, please see this blog post.
11th Grade SAT (Tuesday, 4/26) & Prep Course (Tuesday, 4/18): We are offering a free SAT prep class (Tuesday, 4/18 – Friday, 4/22) during seminar time. There are a few spots available (sign up here), and students must be able to commit to the entire course (all 4 days). All 11th grade students are scheduled to take the SAT on Tuesday, 4/26. Both of these opportunities are offered at no cost to students and their families. For more details, please check your email.
9th Grade TED Talks: Congratulations to the following students who have amazing TedTalk topics and were chosen by their peers to present at our 7th Annual DVCed Talks happening on Thursday, April 21st.
Sophia Alexander
Naomi Arias
Jaiden Corea
Brandon Friedman
Arianna Goldfarb
Mira Grim
Andrea Harris
Nathaniel Hill
Isabella Larios
Ryan Lewis
Daniela Light
Kai Luzniak
Isabela Marquez
Aminah Pope
Mia Rios
Ty Short
Braden Tait
Multicultural Week Preparations (Week 32): Please see this blog post for full details! Here's a quick overview of some next steps and opportunities:
Students can still try out to perform at the DVC Multicultural Event scheduled for Wednesday, 4/27. Interested students should sign up here:

DVC Multicultural Event Application for Student Performances

We have an awesome kick-off event for students scheduled for Monday, 4/25! 

Sign up here

to join DAANSEKOU in a Traditional West African Music & Dance Workshop! 

We are seeking donations to provide students with a culinary experience during the event. Please consider donating to Da Vinci Communications and writing in the donor scroll that this donation is in support of the Multicultural Event. Here is the link for donations:

https://davincischools.networkforgood.com/
Thank you for your continued support of DVC in this final quarter of the school year!
Warmly,
Erin D'Souza
Principal