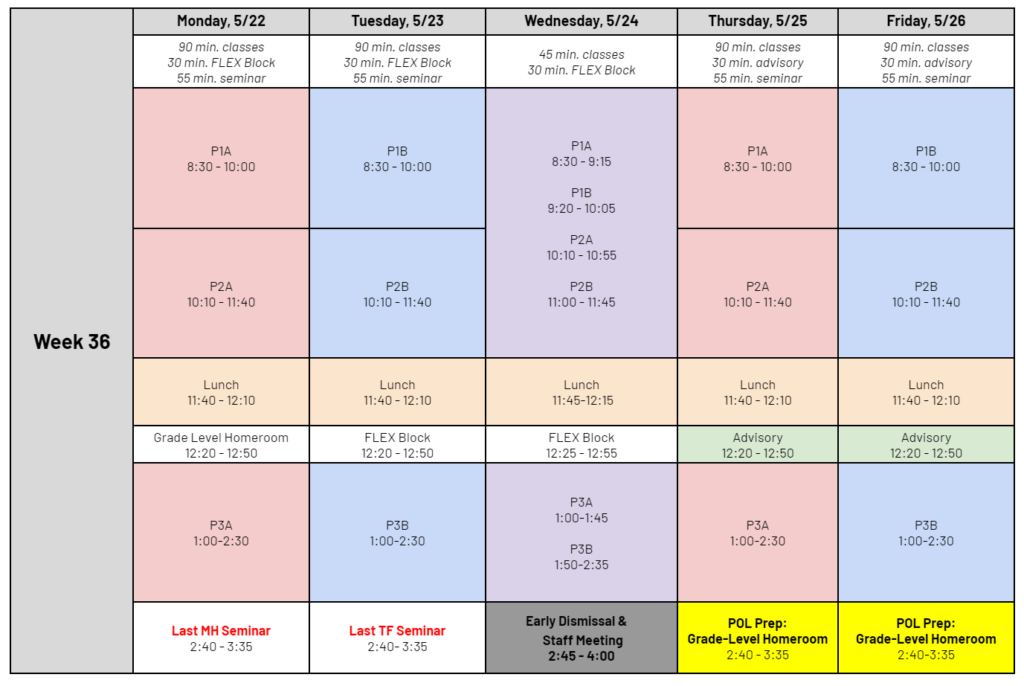 Happy Last Week of May, DVC Families! Let us join in celebration of Asian American and Pacific Islander Heritage Month, commemorating the remarkable achievements, vibrant cultures, and invaluable contributions of these diverse communities. This month serves as a powerful reminder to honor and uplift these students as they enrich the tapestry of American society!
End of Semester 1: This is it – the last week of classes for the school year! Next week is the start of Presentations of Learning (grades 9-11) and Final Exams (grade 12), and we hope that all of our students finish the school year strong. We encourage them to do their best in these final 3 weeks. Please note that the last day to turn in late or missing assignments is this Friday, May 26th. For our seniors, this is the final day to submit work required for graduation.
POL Information: Presentations of Learning (POLs) begin on Tuesday, May 30th! You can read all the schoolwide POL policies HERE. Please see this post for more details about POLS, and use the links below to help your student prepare. Please require them to practice their presentation in front of you and other family members and friends several times before the date of their presentation.
Hiring Symposium: We are hiring a new Marketing Teacher at DVC for the 23-24 school year as Deepti Reim is relocating to the Pacific Northwest. We are holding a hiring symposium on Thursday, 5/25 from 9am – 12pm, and we would like parents to participate in an interview panel. It is important to us that we hear perspectives from all stakeholders. If you have any interest or availability for this Thursday, 5/25, please complete THIS FORM. 
Summer School: Students expected to attend summer school Session 1 have been notified by email. Please make arrangements for your student to attend if required.If you were expecting an email and didn't get one, please contact the appropriate counselor below.  If you have questions, please reach out to Jennifer Barba (jbarba@davincischools.org) for current 10th graders and Artia Thomas (athomas@davincischools.org) for current 11th & 12th graders.
Session 1: June 13-June 30 (8:30 – 11:30am)

Session 2: July 11-July 27 (8:30 – 11:30am)
The 23-24 School Year: Next year will be the 11th year of Da Vinci Communications! The first day of school is Monday, August 14, 2023. You can find the calendar for next year here: 2023-2024 Da Vinci Communications Calendar
Here's a list of what's coming up:
Wednesday, 5/24: Career Day (11th & 12th Grade)

Thursday, 5/25: Hiring Symposium (Marketing Teacher)

Thursday, 5/25: Senior Awards Night @ 5pm (by invitation only)

Friday, 5/26: Last Day to Submit Work Required for Graduation

Monday, 5/29: No School – Memorial Day Holiday

Tuesday, 5/30 – Tuesday, 6/6: Presentations of Learning & Finals (1:50pm dismissal)

Friday, 6/2: Disneyland Grad Night (12th grade)

Wednesday, 6/7: Last Day of School (1:50pm dismissal)

Thursday, 6/8: DVC Class of 2023 Graduation (1pm start time)