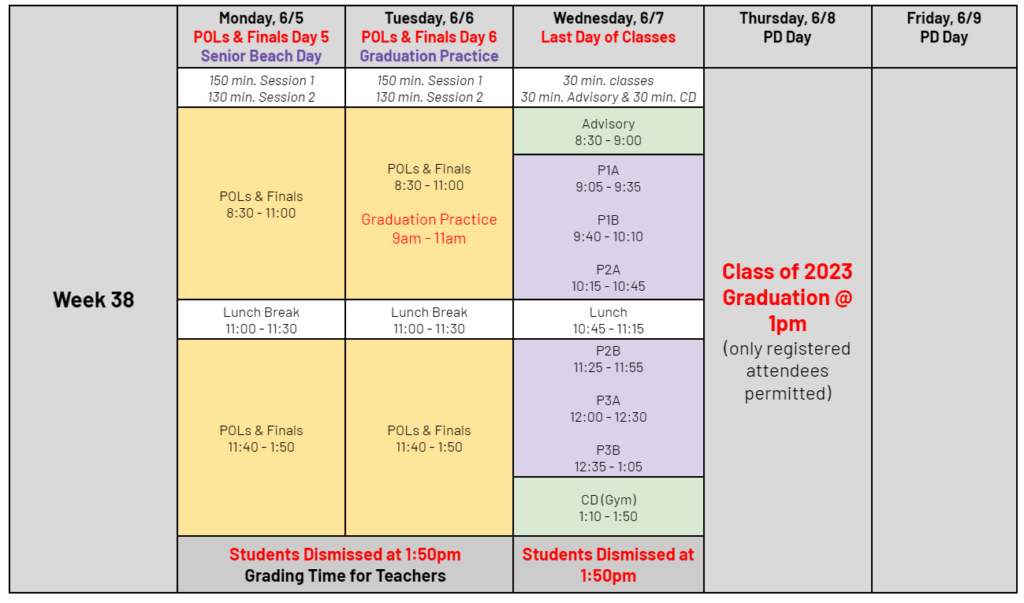 This week is the final week of the school year! We are proud of our students and all that they've accomplished this academic year, and we are especially proud of our seniors as they prepare for graduation and celebrate their success! School ends at 1:50pm on Monday, Tuesday, and Wednesday; Wednesday, 6/7 is the last day of the school year.
Presentations of Learning (POLs): Monday and Tuesday are the final days of Presentations of Learning (POLs). You can read all the schoolwide POL policies HERE. Please see this post for more details about POLS, and use the links below to help your student prepare. 
PowerSchool Access: Teachers are busy finalizing grades and inputting assignments this week and next week. As such, PowerSchool access for students and parents is now turned off. Access will be restored once report cards are sent home during the week of Monday, June 12th. Thank you for your understanding!
Summer School: Students who need to recover credits required for graduation are expected to attend summer school. Separate emails have been sent to those who are expected to attend. The dates for these programs are as follows:
Session 1: Tuesday, June 13 – Friday, June 30 (8:30am – 11:30am)
Session 2: Tuesday, July 11 – Thursday, July 27 (8:30am – 11:30am) 
The 23-24 School Year: Next year will be the 11th year of Da Vinci Communications! The first day of school is Monday, August 14, 2023. You can find the calendar for next year here: 2023-2024 Da Vinci Communications Calendar
Here's a list of what's coming up:
Monday, 6/5: Senior Beach Day 

Tuesday, 6/6:  Senior Graduation Practice (9am – 11am)

Wednesday, 6/7: Last Day of School (1:50pm dismissal)

Thursday, 6/8: DVC Class of 2023 Graduation (1pm start time)

Tuesday, 6/13: Summer School Session 1 Begins

Summer School Session 1: June 13- June 30 (8:30 – 11:30am)

Summer School Session 2: July 11-July 27 (8:30 – 11:30am)

Monday, 8/14: First Day of 23-24 School Year
DVC Weekly Schedules Year 10 (2022-2023) & DVC Year 10 Planning Calendar (2022-2023)