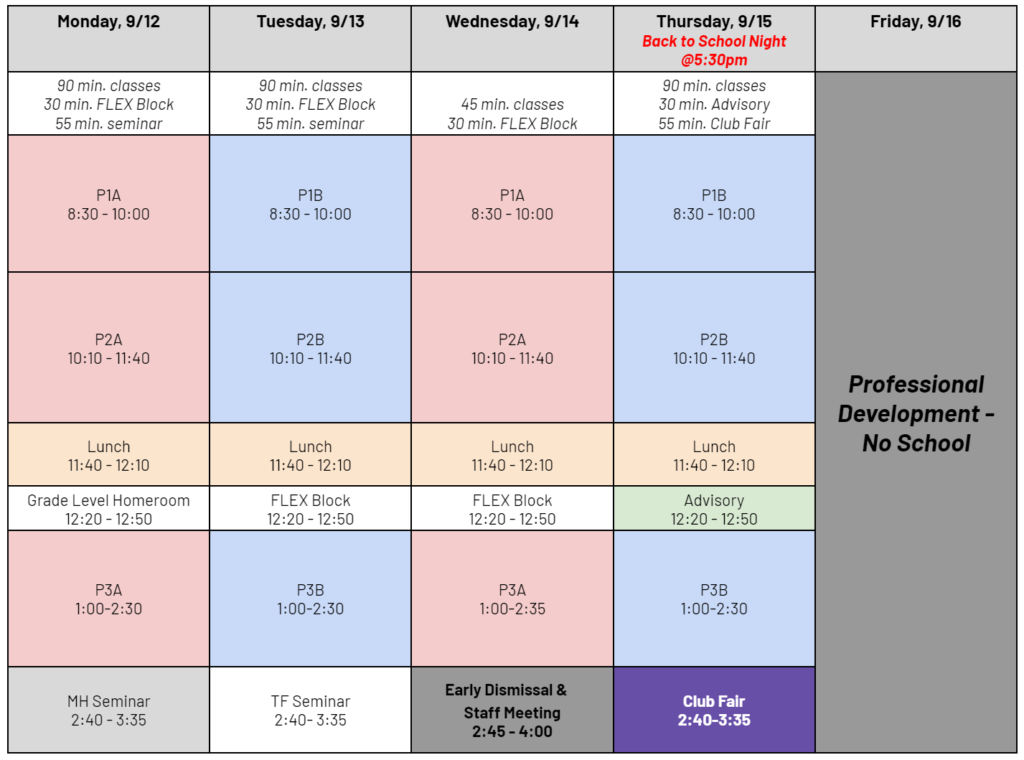 Dear DVC Students and Families,
We had another great week at DVC, ending the week on Friday with our first school-wide CD (i.e. school-wide assembly) where we awarded 16 students with All-Star Awards for their contributions to our DVC community so far this academic year! We also enjoyed hosting lunch visits from the college admissions representatives from both USC and Stanford. These college admissions representative visits are open to all students grades 9 – 12, and the visits will take place in Mr. Jackson's room (3203) during lunch; no sign-up is required to attend. If you subscribe to our blog/website (dvc.davincischools.org), you also noticed that our counseling team shared information about suicide prevention in recognition of National Suicide Prevention Week. Our counselors have also started an Instagram account and you can follow them @dvccounselors. We look forward to seeing you at Back to School Night on Thursday, 9/15! Please read below for more details about this coming week and beyond.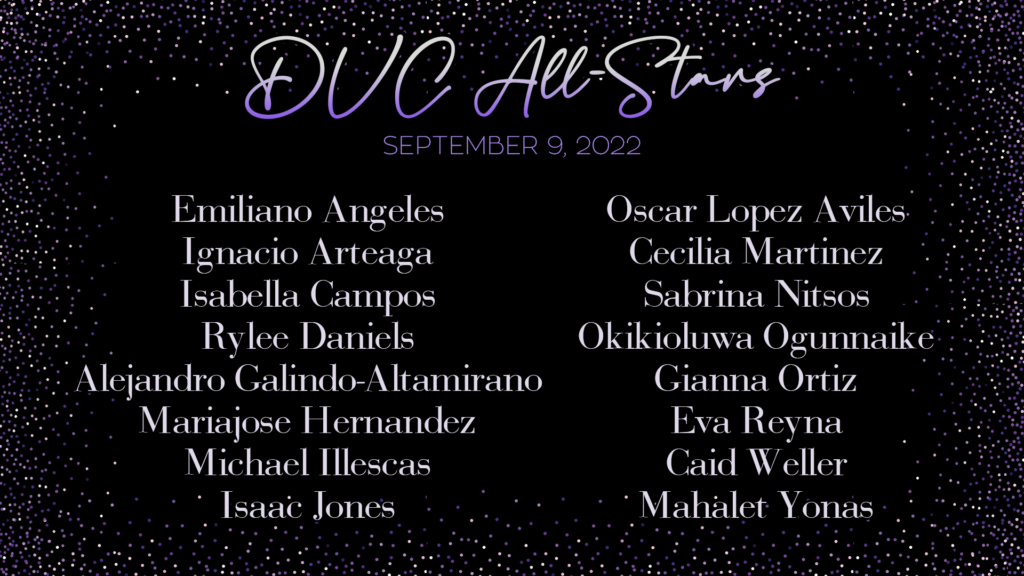 Picture Day Makeups: Students in Period 3B English with Ms. Regina, Ms. Flower, or Ms. Hapner's classes were unable to take their pictures due to the high winds on Friday afternoon. These pictures have been rescheduled for Tuesday, September 13th during Period 3B. If your student was absent on Thursday or Friday and missed their scheduled picture time, makeups are scheduled for this Monday, September 12th from 8:45 – 9:15am.
Back to School Night: We are excited to welcome families to DVC this Thursday, September 15th. We will be handing out schedules and PowerSchool login information from 5:15 – 5:45pm in our Black Box Theater, and our schedule allows you to travel to each of your student's core classes to hear from their teacher about class expectations. We look forward to having you on our campus for this important evening and we thank you for making the time to attend.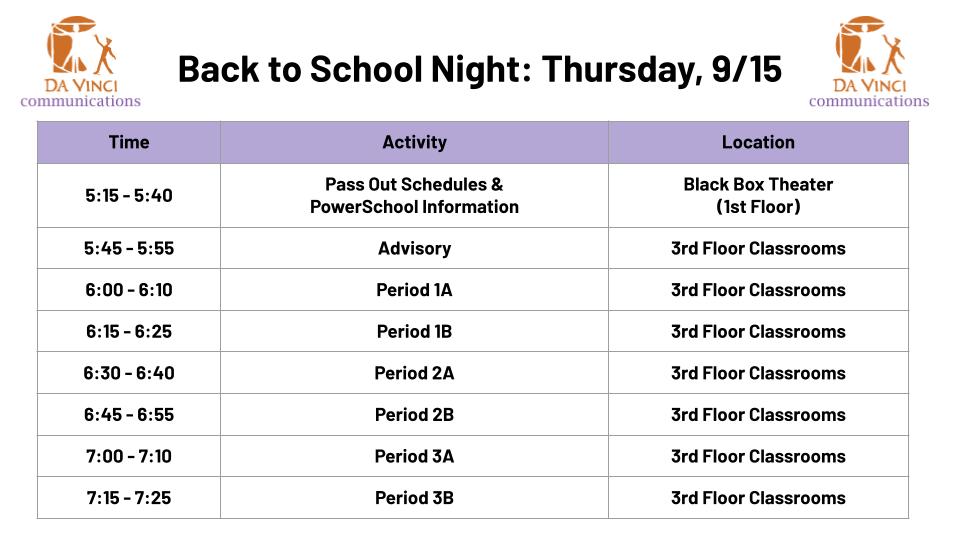 Incident Reporting Form: All members of the DVC community are encouraged to report anything that would contribute to an unsafe or unhealthy learning environment to a DVC staff member as soon as possible. We also wanted to draw your attention to this Incident Reporting Form so that students can anonymously report anything they'd like to the DVC principals. We receive an email when the form is completed, and the form is linked at dvc.davincischools.org. All DVC students, parents, and guardians are welcome to contact me (Erin D'Souza, Principal) via cell phone as well. My number is (310) 350-7192. Please save it in your phone.
School Site Council: The School Site Council is an opportunity for parents, students, & staff to work collaboratively to review the school program, review data and identify needs, and make recommendations for the Local Control and Accountability Plan. If you are interested in joining the DVC School Site Council, please fill out this School Site Council Parent interest form by Wednesday, 9/14: School Site Council Interest Form All submissions will be added to a voting form that will go out to the DVC parent community on Thursday, 9/15. School Site Council members will be notified on Tuesday, 9/20. The first School Site Council Meeting is scheduled for Wednesday, 9/28 at 5pm on Zoom. If you have any questions, feel free to send them to me at edsouza@davincischools.org.
Club Fair: Our Club Fair will be on Thursday, 9/15 from 2:40-3:35. Please encourage your student to get involved in one or more student clubs at DVC!
Here's what's coming up:
Thursday, 9/15: Club Fair

Thursday, 9/15: Back to School Night – schedules distributed starting at 5:15pm

Friday, 9/16: No School – Professional Development Day

Wednesday, 9/28: School Site Council Meeting #1 @ 5pm via Zoom

Wednesday, 10/12: PSAT for Grades 9, 10, & 11 / 12th Grade College Trip

Thursday, 10/13: No School – Professional Development Day

Friday, 10/14: No School – Professional Development Day
Please bookmark this school calendar for the most up to date information. For all weekly schedules, please bookmark this link: DVC Weekly Schedules Year 10 (2022-2023)
Wishing you a safe and healthy weekend,
Erin D'Souza, Principal