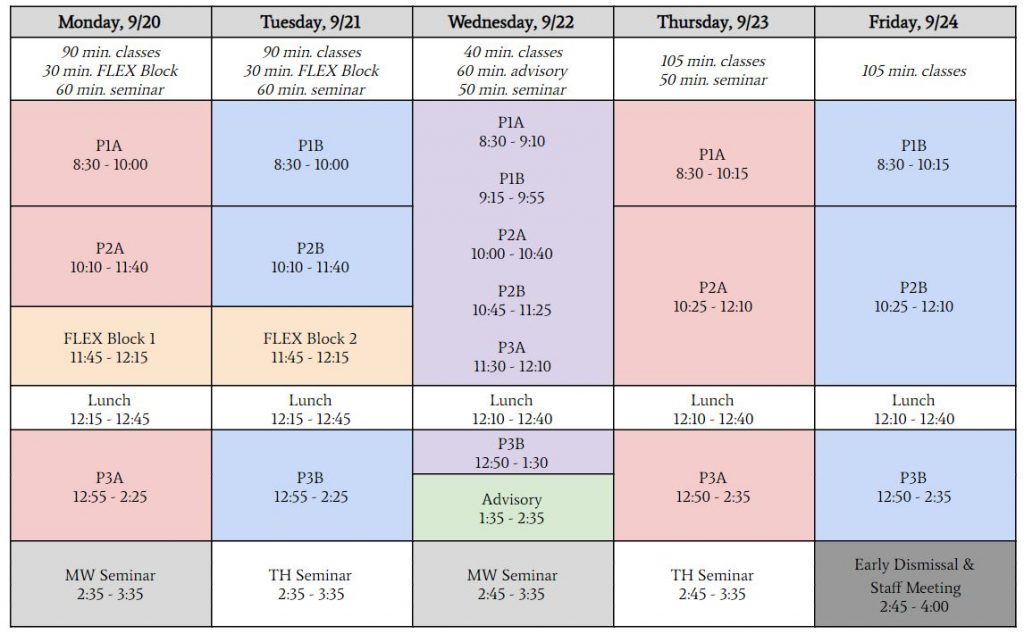 Happy Sunday, DVC Families,
A big highlight of last week was the DVC Club Fair we held on Thursday afternoon. There were over 25 student-led clubs for students to check out and join! A big thank you to our student leaders who worked hard to prepare engaging, creative displays about their clubs. We hope that every student found at least one club to spark their interest.
A few updates:
School Site Council: We had our first School Site Council Meeting on Wednesday evening via Zoom. The role of the School Site Council is to obtain recommendations for, develop, approve, and review implementation of the Local Control and Accountability Plan (LCAP) and the Comprehensive School Safety Plan. The meetings are open to the entire DVC community, and all meetings begin with a few minutes reserved for public comment. Meetings will be held via Zoom this year, and our next meeting is scheduled for Wednesday, October 20th at 4:30pm. The School Site Council members for the 2021-2022 school year are as follows: 
Arleen Romero, parent

Desiree Saddler, parent

Liza Somilleda, parent

Jaylon Jones, student, Co-Chair

Ryan Gardner, student, Co-Secretary

Ayana Alvarado, student, Co-Secretary

Andy Galbraith, staff, Co-Chair

Einstein Lopez, staff

Jennifer Barba, staff

Andrew Daramola, staff

Erin D'Souza, staff
Honors: This week and next week are when teachers are explaining to students what is expected to earn honors. Stay tuned for a blog post about school-wide honors expectations.
Attendance: Next week, parents/guardians can expect to begin receiving automated calls home regarding attendance and absences. If a student is marked absent in any class, automated calls will be going home at two different times of the day in order to update parents/guardians. If you feel that you receive a call in error, please follow up with DVC's Attendance Manager Pattie Foxman by calling the DVC front office or sending her an email at pfoxman@davincischools.org.
Incident Reporting Form: All members of the DVC community are encouraged to report anything that would contribute to an unsafe or unhealthy learning environment to a DVC staff member as soon as possible. We also wanted to draw your attention to this Incident Reporting Form so that students can anonymously report anything they'd like to the DVC principals. We receive an email when the form is completed, and the form is linked both at dvc.davincischools.org and tinyurl.com/dvcwebsite. All DVC students, parents, and guardians are welcome to contact me via cell phone as well. My number is (310) 350-7192. Please save it in your phone.
COVID-19 Dashboard: Da Vinci Schools now has a COVID-19 Dashboard so that you are aware of our campus statistics. If you have any questions regarding the management of COVID-19 at DVC, please contact our School Nurse, Emily Green, PhD. (egreen@davincischools.org)
FLEX Block: We have begun one of our new initiatives this year: FLEX Block. This period occurs before lunch on Mondays and Tuesdays, and generally replaces our traditional before-school or after-school office hours, allowing students to access teachers of their choice during the school day. Students can log into Edficiency at dvc.edf.school and select where they'd like to go prior to 11:59pm on Sunday evening. We encourage students to select the teachers of the courses in which they need the most support, and we are hopeful that this time allows students to get the help they need to be successful in their classes. Students will receive an email letting them know where they have been scheduled for Monday prior to the start of school.
Please see this week's schedule at this post and also at tinyurl.com/dvcwebsite.
Hoping that this coming week is a happy and healthy one for you and yours,
Erin D'Souza
Principal