Hi DVC Families,
We had a great Friday and we hope you did, too! All of our seniors shared their Economics of College Project Presentation to the 9th, 10th, and 11th graders during advisory. Ask your students what they learned about college from their peers today! Also, check out the pictures of our Friendship Club doing a pumpkin and mask decorating event in our main commons during lunch. DVC loves Friendship Club!
We are excited to celebrate Spirit Week at DVC next week! Please keep in mind that our dress code still applies (unacceptable dress listed below) and that we ask that students do not wear masks or bring fake weapons to school on Halloween. We are looking forward to seeing creative and appropriate costumes on Halloween as well as appropriate attire for the other spirit days. Here is the detailed week schedule: DVC Week 11 Schedule
Unacceptable Dress @ DVC:
Indecent exposure of any kind (midriffs, low-cut tops, large rips in jeans, undergarments showing, etc.)

Skirts, dresses, shorts that are shorter than mid-thigh, with or without leggings/tights/stockings underneath

Spaghetti strap tops

See-through shirts of any kind, unless paired with an acceptable top underneath

Inappropriate content of any kind

Hats, beanies, or caps in class, unless otherwise stated by the teacher
Here's a snapshot of the week ahead: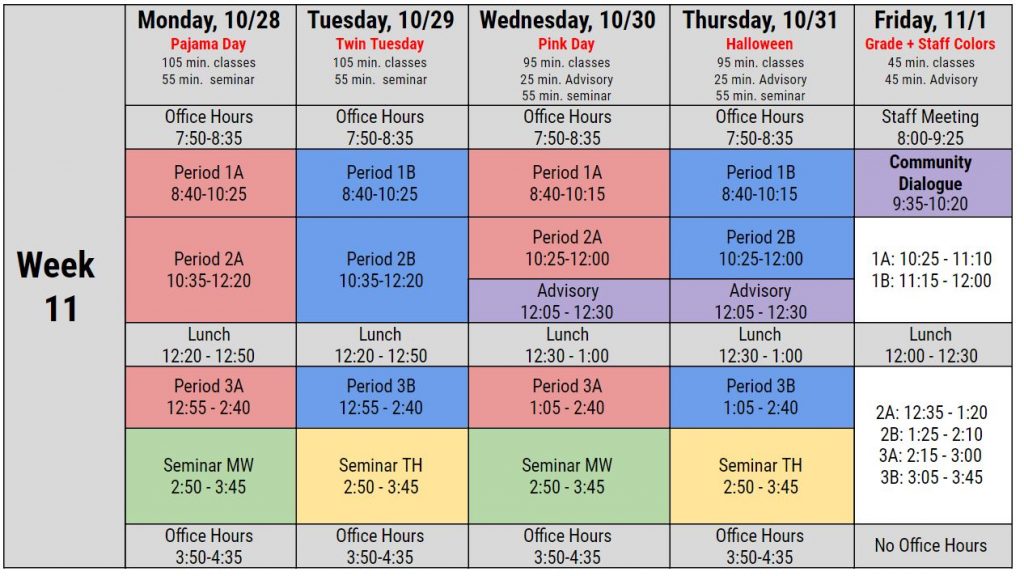 We wish you all a safe and happy weekend!
Sincerely,
Erin