Hi DVC Families!
We've had a terrific first two days of Presentations of Learning (POLs) at DVC and we're looking forward to four more great days!  The school hours for this week are the same as Thursday and Friday of last week: 8:40am – 1:55pm.  Please make sure your student comes to school on all four days.  In addition to POLs, we have finals and math standardized testing prep going on as well.  Attendance in these last few days is critical and we can really use your help in making sure all students who are healthy are coming to DVC on these days. Please click on the detailed schedule here: DVC Week 17 Schedule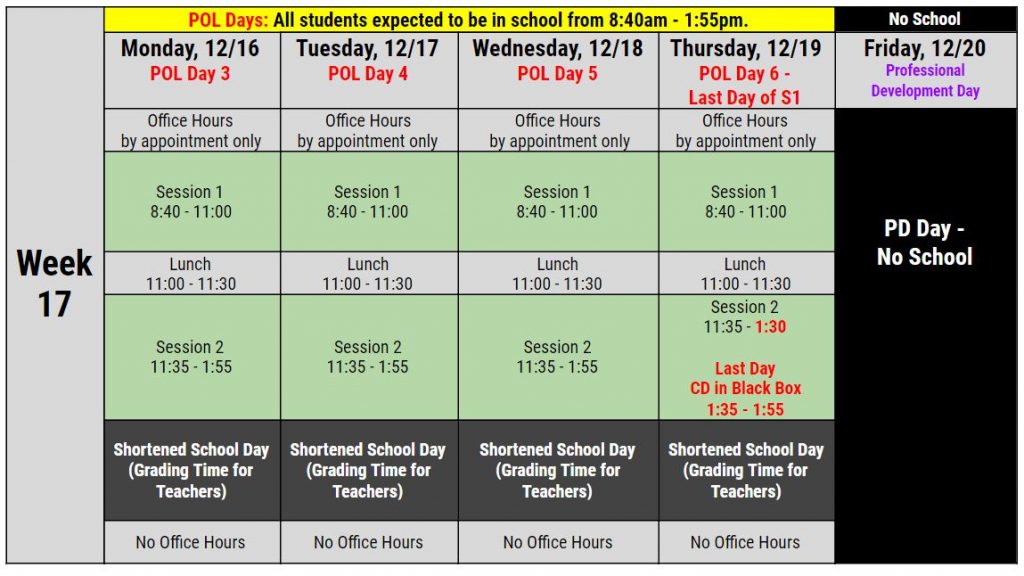 A few more important notes:
Rosetta Stone Language Classes: Students are still permitted able to be working on completing their Rosetta Stone language class over the weekend.  Monday, December 16th at 10am is the final deadline for Rosetta Stone. If you have any questions please feel free to reach out to Stacey España at sespana@davincischools.org You can also look on Google Classroom for all important documents!
Senior Yearbook Re-Takes: We are offering all seniors the opportunity to re-take their senior yearbook picture on Tuesday, December 17th at 2pm (immediately following school dismissal). No need to sign up – just show up near the bottom of the blue stairwell and the photographer will be ready for you!
PowerSchool Access: We will be turning off student access to PowerSchool while teachers finalize grades. We will be mailing home report cards on the afternoon of Friday, December 20th. If you need to update your address, please contact Pattie Foxman at pfoxman@davincischools.org or (310) 725-5800.
Holiday Staff Potluck: We are so grateful to the love and support we feel from our families! We are looking forward to our staff holiday potluck on Friday, December 20th at 12pm. Thank you to all the families who have signed up already! tinyurl.com/holidaypotluckDVC
If you have any questions or concerns, please reach out to me at edsouza@davincischools.org or give me a call at (310) 725-5800.
Have a great weekend,
Erin