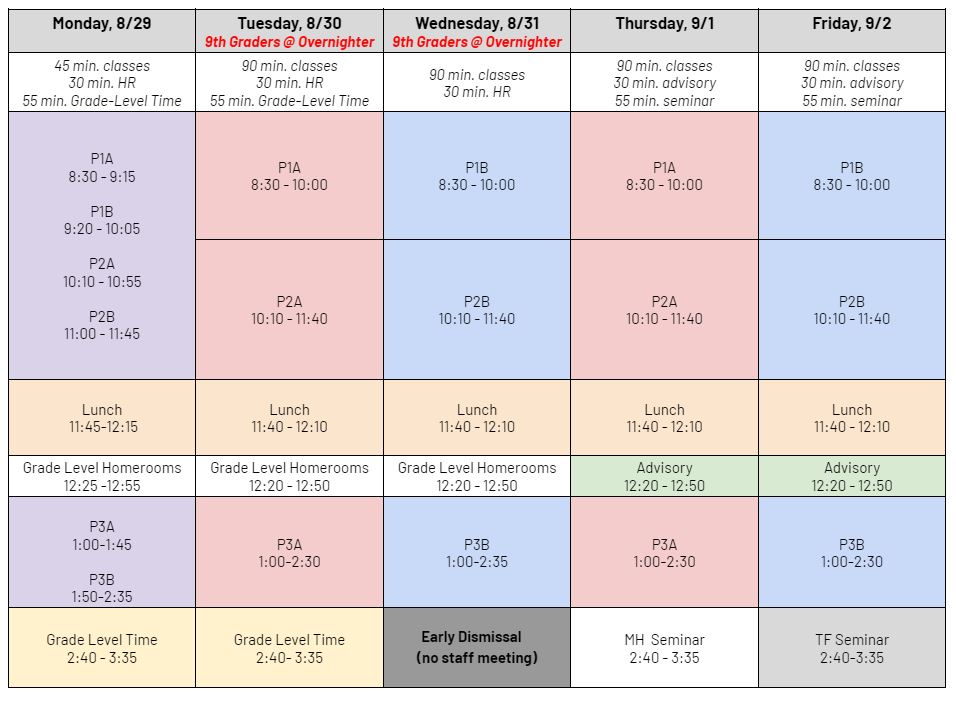 Dear DVC Students and Families,
We had a great week at DVC! Students are working on learning the names of every student in their Advisory as it is really important that all students are known, seen, and valued at DVC. Our seminar program began this week, and seminars have been going great! On Friday, we had a fire drill and we were so impressed with the way that our whole school quickly and safely evacuated the building. This school year is off to a great start.
The Overnighter: The whole school is excited for the Class of 2026 as they prepare to leave for The Overnighter on Tuesday, August 30th. The Overnighter Leaders leave on Monday, August 29th to get ready to welcome the 9th graders. Class of 2026 & Families: Please review the linked information below carefully in preparation for the trip.
DVC Overnighter August 2022 (9th Grade)

: This packet contains information about the following:

Mandatory covid-testing prior to trip departure

How to contact us in the event of emergency

What to pack for the trip

Expected departure and arrival times

Student cell phone use during the trip

Students who need to take medications during the trip

Dietary Restrictions for Overnighter

: Please complete this link if you have a dietary restriction that the kitchen staff must be made aware of.
Week 3 Schedule: Due to The Overnighter, we have adjusted next week's schedule. Monday will have both A day and B day classes. Seminars resume on Thursday, September 1st. Please take note of the change. You can view all weekly schedules for the year here: DVC Weekly Schedules Year 10 (2022-2023)
Schedule Changes: The link to request schedule changes is now closed. If you would like to request a change at this time, please contact your counselor. Class of 2023 (12th grade) and Class of 2025 (10th grade), please email Ms. Barba at jbarba@davincischools.org. Class of 2024 (11th grade) and Class of 2026 (9th grade), please email Mrs. Thomas at athomas@davincischools.org. 
PowerSchool Access: Access to PowerSchool has been restored for all returning students. For all incoming students (9th grade and transfer), we will distribute PowerSchool login information at Back to School Night on Thursday,, September 15, 2022 at 5:30pm.
Here's what's coming up:
Monday, 8/29: Leaders leave for Overnighter

Tuesday, 8/30: 9th graders leave for Overnighter @ 8:30am

Wednesday, 8/31: 9th graders return from Overnighter @ 2:00pm

Monday, 9/5: No School – Labor Day

Tuesday, 9/6: FLEX Block Begins

Wednesday, 9/7: School Site Council Meeting #1

Thursday, 9/8: DVC Picture Day

Friday, 9/9: DVC Picture Day

Thursday, 9/15: Club Fair

Thursday, 9/15: Back to School Night @ 5:30pm

Friday, 9/16: No School – Professional Development Day
Please bookmark this school calendar for the most up to date information.
Enjoy your weekend,
Erin D'Souza, Principal