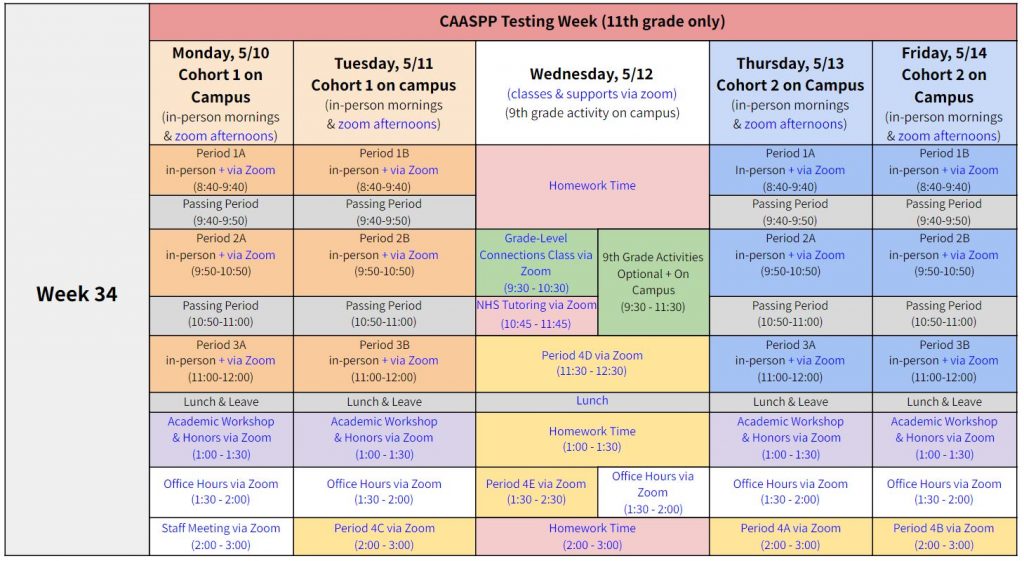 We had a wonderful first week of hybrid and we're excited to welcome back Cohorts 1 and 2 again this week! As a reminder, Cohort 1 comes on Monday and Tuesday and Cohort 2 comes on Thursday and Friday. Wednesday is our asynchronous day in which students have one class in the morning and the rest of the day to complete their schoolwork. Here are all the weekly schedules for the rest of the academic year: Hybrid Schedules @ DVC
Here are some important dates for this week and beyond:
Monday, 5/10: State Testing Begins for 11th Graders
Wednesday, 5/12: 9th Grade Activities (optional + on-campus) from 9:30 – 11:30am
Wednesday, 5/12: School Site Council Meeting @ 5pm via Zoom at this link
Friday, 5/28: Last Day for Seniors to Submit Work Needed to Complete Graduation Requirements, including APEX Classes
Friday, 6/4: Last Day for All Students to Submit Late Work
Wednesday, 6/9: DVC Graduation @ 4pm
*Please note that we've had to cancel our 11th Grade Outdoor Activity originally scheduled for 5/5 and 5/6 due to the switch to the hybrid schedule, but we will be rescheduling this event and will keep you updated with the new dates. We will also be posting about Senior Activities this week. Stay tuned!