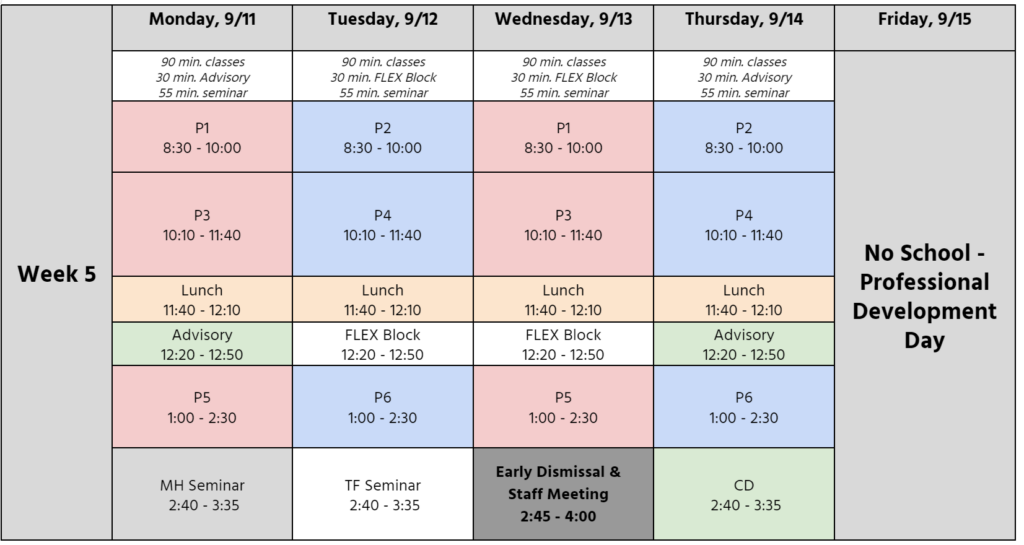 Happy Saturday, DVC Families!
We finished off Friday afternoon with a terrific Club Fair where we students were able to check out which of the 40 DVC student-led clubs they'd like to join! Check out this list of offerings: List of DVC Student-Led Clubs 2023-2024 
Spirit Week: Next week is also a short week, with no school on Friday, 9/15 due to Staff Professional Development. We have our first "CD" (i.e. school-wide assembly) on Thursday, 9/14 and we are getting excited for it with our first Spirit Week of the year! We look forward to lots of staff and student participation. Here are the themes:
Monday, 9/11:

Match Monday

(either twin with someone or rhyme with someone)

Tuesday, 9/12:

Tired Tuesday

(wear your pajamas to school)

Wednesday, 9/13:

West Coast vs. Wild West

(dress beach vs. western)

Thursday, 9/14:

Barbie Day (wear PINK)
BTSN Follow Up: We had a great turnout at Back to School Night; thank you for coming! Please review these slides and let us know what you thought about the event at this link. 
Canvas Access: Parents and guardians are able to see student grades and assignments on Canvas, our Learning Management Platform. Please use these resources to create your account and link to your child's account: Da Vinci Canvas: Parent/Guardian Accounts How-To Website 
12th Grade Parent Night: Please plan to join us in the Black Box Theater on Wednesday, September 13th for a 12th Grade Parent Night from 5:30 – 6:30pm presented by our counseling team, Ms. Monique Aldrete and Ms. Artia Thomas, and our College & Career Readiness Teacher, Mr. Christopher Jackson. There will be lots of great information for senior parents at this meeting! 
Here's what's coming up:
Wednesday, 9/13: 12th Grade Parent Night in Black Box Theater @ 5:30pm

Thursday, 9/14: First Schoolwide CD (School Assembly)

Friday, 9/15: No School – Professional Development Day

Saturday, 9/16: Latino College Expo

Monday, 10/2 – Friday, 10/6: Student-Led Conferences (SLCs)
Bookmark these links:
Wishing you a great weekend,
Erin D'Souza, Principal