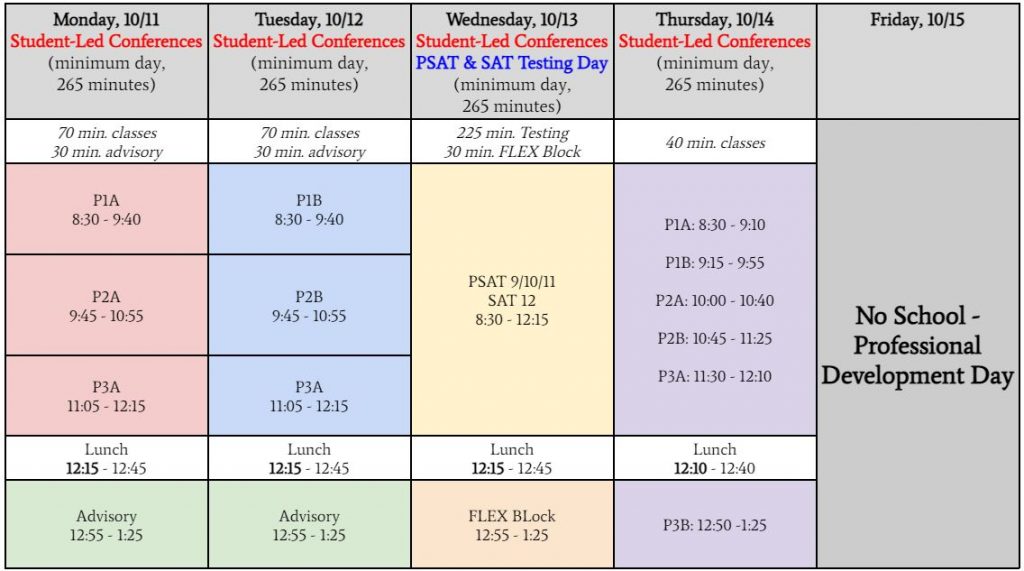 Hi DVC Families!
A terrific part of last week was our Hispanic Heritage Month CD on Wednesday! If you are on Instagram, follow us @dvchighschool to check out pics and videos. We are thankful for our student leaders who organized this special event! This week we will be having a Hispanic Heritage Month Spirit Week! Please see this link for the daily themes: Hispanic Heritage Month Spirit Week Themes 
Student-Led Conferences (SLCs) will be held from Monday, 10/11 to Thursday, 10/14. SLCs are happening via Zoom this semester. Students/families are expected to sign up with their student's advisory teacher. If you have yet to sign up, please do so right away. It is expected that every student has an SLC with their parent/guardian during this week. Click here to sign up: Student-Led Conference Sign Up Links (sign up with advisory teacher)
To allow teachers to conference with students and parents, students will be released from school at 1:25pm Monday through Thursday. Students are expected to return home at this time and conduct their SLC from home, if possible. Students who have an SLC immediately following school dismissal should go to the room of their advisory teacher for the conference. Families will be receiving a follow-up email with zoom link for the conference. There is no school on Friday, 10/15 due to Professional Development for Staff.
On Wednesday, there is a special schedule for PSAT and SAT Testing. We are happy to be able to offer these tests during school. Though we know that many colleges and universities are choosing to be "test optional" when it comes to the PSAT and SAT, these tests are still required for access to many college and university scholarships. It is still important that we offer these standardized tests as we want to open as many doors as possible for students. For more information about the tests students will be taking, please consult the student guides below:
Bike Safety Class: The Wiseburn Education Foundation has partnered with the Hawthorne and El Segundo Police Departments to offer a Bike Safety Class in the West Plaza (outdoors under the tents) on Wednesday, 10/13 at 5:30pm! This event is open to all students and their parents and guardians. Please register here if you are interested in attending: bit.ly/bikesafe2021
Please see this week's schedule at this post and also at tinyurl.com/dvcwebsite.
Wishing you an enjoyable weekend,
Erin D'Souza
Principal