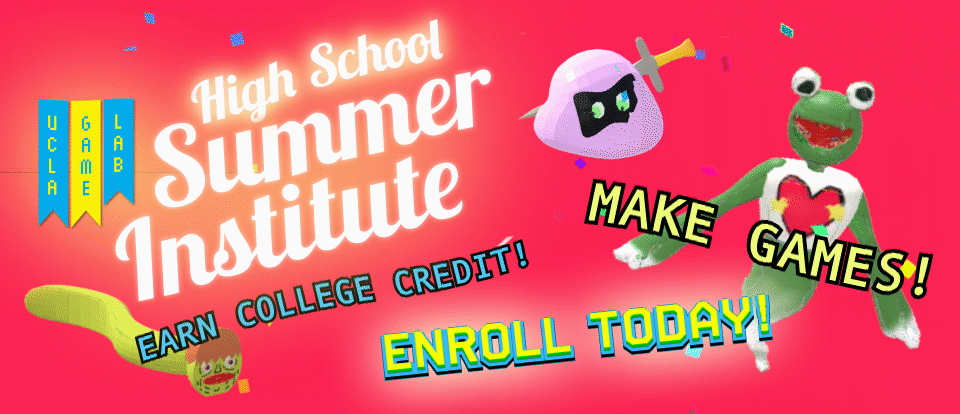 The UCLA Game Lab Summer Institute introduces high school students to game-making as an artistic practice, teaching them techniques and tools to develop analog and digital games that reflect their own creative vision. No previous game-making skills are required. Students with an interest in games and visual arts will find the curriculum especially rewarding–and those who complete the two-week program receive 4 units of college credit!
This summer we're featuring two sessions of the program: an online, virtual classroom version, as well as an in-person, residential program on campus at UCLA. The two sessions offer nearly identical instruction and game design projects—but now you can choose between an online or an on-campus experience! The dates for Summer 2023:
Session A (online, virtual classroom): July 10, 2023 – July 21, 2023
Session B (in-person, residential): July 23, 2023 – August 5, 2023
The Summer Institute program is committed to diversity, equity, and inclusion, and we welcome students of all cultural, racial, gender, linguistic, geographic, and socioeconomic backgrounds and physical abilities.
Registration starts February 15 at the UCLA Summer Sessions website. Spaces in both programs are limited—and they tend to fill up pretty fast. So if you're interested in learning all about game design this summer, please visit that site soon–and please read on to learn more about what makes the UCLA Game Lab Summer Institute so special!
Develop technical and creative skills by making game art!
Students in the program develop an aesthetic and technical foundation in various aspects of game design, and begin learning how to express their own personal ideas through game-making.
Taught by alumni of the internationally renowned UCLA Game Lab, the two-week program leads students through four, hands-on courses in game development. These classes focus on:
Learning the fundamentals of game design
Creating compelling game characters
Building game worlds
Programming/coding games
Prepare for college… and beyond!
By the end of the two weeks, students will have created complete games or game assets in each of the four classes. Completed student work is exhibited after the program is over—either in a gallery space at UCLA for our residential program, or via a gallery-like website installation for our online, virtual-classroom program. Either way, students and parents get to experience all of the wonderful game art completed during the program, and students graduate from the Summer Institute with their artwork—and 4 units of college credit—which they can include in their college applications and portfolios.
About the UCLA Game Lab
The Summer Institute program is sponsored by the UCLA Game Lab, a creative and research-based center that approaches game development as a discipline combining technology and the arts. The lab specializes in using game technology for experimental and expressive applications and enables designers of all backgrounds to start making games. Founded in 2009 by artist and game designer Eddo Stern, a professor in the Department of Design Media Arts, the lab is sponsored by UCLA's School of the Arts and Architecture and the School of Theater, Film, and Television.
If you would like to learn more about the lab's mission or to see the work of our student artists, please visit us on web at games.ucla.edu. For more information—or to schedule a campus visit—please email Tyler Stefanich (tyler@games.ucla.edu), Game Lab Manager. If you work with high school students, we would encourage you to book a group visit with us to introduce your students to the lab and our Summer Institute program!
Register for the Summer Institute!
For complete information about the program—and to register and enroll—please visit our program at the UCLA Summer Sessions website. As noted above, registration begins on February 15–and spaces are limited–so please be sure to complete your registration as soon as possible!